The Fine Cheese Co. in the Press
Mail on Sunday - YOU Magazine: 'Tom Parker-Bowles & Olly Smith: Eating in'
21st February 2021
"Tom's gone a bit cheesy this week - and we fully endorse it."


Grazia - 'Valentine's Day in Lockdown: The Best Boxes, Hampers and Virtual Experiences For A Romantic Night In.'

2nd February 2021 Speciality Food Inspirational Cheese Retailers - 'Cheese Counter Champions'
2021 Oliva Tessen - 'Fusion Picnic with EVOO'
2021 Countryside Magazine - 'The Best of British Cheese - All Wrapped Up.'
December 2020 BBC Good Food Christmas Issue - 'Save British cheesemakers: Christmas cheeseboard.'
Christmas 2020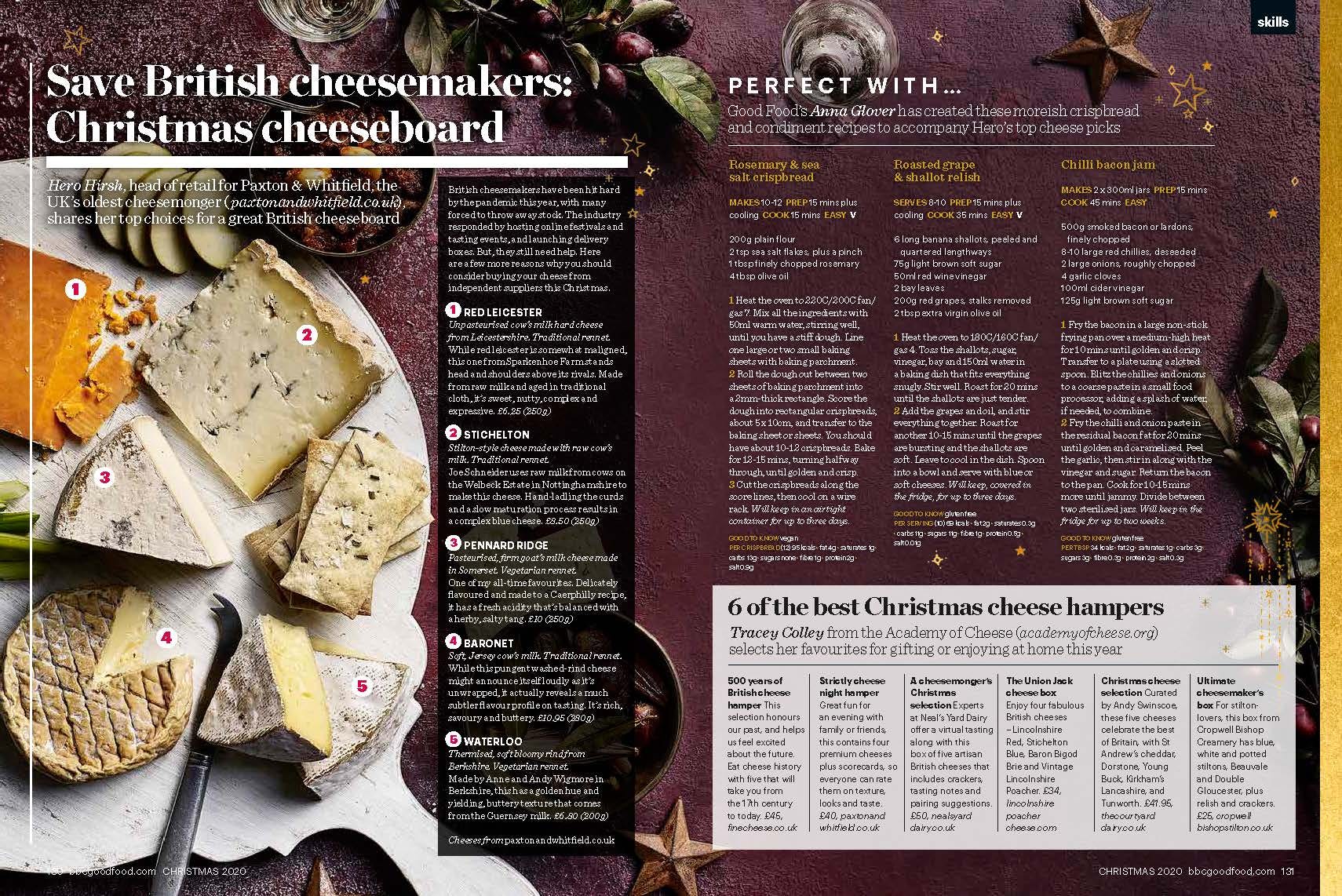 The Grocer - 'The cheese rescuers: The Dairymen British cheese category report 2020
4th November 2020
The Telegraph - 'Biting Talk with Bath Oliver biscuit maker, John Siddall: "William Oliver would have preferred ours"
23rd October 2020

Biting Talk Podcast - William Sitwell talks to John Siddall.'
23rd October 2020 Good Housekeeping - 'The best Camembert cheese to bake at home.'
21st August 2020 Luxury Lifestyle Magazine - '4 Of The Finest Online Food And Drink Retailers With Delivery Services In The UK.'
1st June 2020

The Independent - '11 best cheese subscription boxes: Get artisan produce delivered straight to your door.'
1st June 2020 Belgravia Magazine - 'Fine Food On Demand.'
BBC Good Food - '15 of the best cheese subscriptions and delivery boxes.'
BBC Good Food - 'Where to buy British cheese.'


Financial Times - '
8 of the best UK food-subscription boxes.'
30th March 2020 Good Housekeeping- 'Where to buy the best Stilton this Christmas.'
17th October 2019 Olive - 'Bath foodie guide: where locals eat and drink'
9th October 2019 Fine Food Digest
July 2019

iNews - 'Best Buy' Cheese Subscription
17th June 2019 Culture Magazine - 'Best Cheeses: Great Britain'
Speciality Food Magazine - ' What is behind the enduring appeal of blue cheese?'
29th November 2018 Food and Travel - Food News
1st August 2017 Speciality Food Magazine - The Interview: Ann-Marie Dyas
1st July 2017 Belgravia - Delights for Dad
26th May 2017 Le Parisienne - Osez les fromage Anglais
4th April 2017 BigHospitality - Raw Talent 5 key lessons from the new British cheesemakers
14th March 2017 Fine Food Digest - What's he got in store for you
1st March 2017 Telegraph Magazine - Fruit Blocks to Complement a Cheeseboard
3rd December 2016 Belgravia Magazine - A Berry Merry Christmas
1st December 2016 SLOAN! - Expert advice How to make the perfect cheeseboard
14th November 2016 Smorgasbord Gift Special - The Times
6th November 2016 You & Your Wedding - Cool Cheese Wedding Cakes

3rd November 2016 Let them eat… Flowers? - Wedding Flowers & Accessories
1st November 2016 Chosen for you- Gift Guide
delicious - October 2012
Christmas wouldn't be right without stilton, but too often gift pots of cheese are all styte on the outside with little substance inside - not these ones - The Fine Cheese Co. Ceramic Stilton Pot