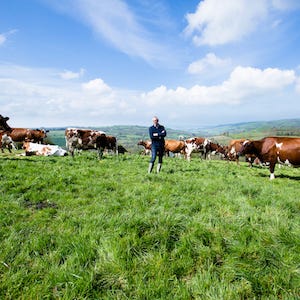 This month heralds the start of Organic September and an opportunity to discuss the values of organic food. Organic stands for environmental sustainability, a lack of herbicides or artificial fertilisers, and animal welfare.
Organic September is a great opportunity to chat with two shining lights of organic dairy farming, about why they feel it is so important to the future of food production.
Patrick Holden, CEO of the Sustainable Food Trust and founding chairman of the British Organic Farmers movement in 1982, is a man whose farming techniques have helped make Hafod the cheese it is today. He feels conventional farming methods in the UK are not sustainable.
"The present predominant food system, using chemical fertilisers, pesticides and monoculture, is trashing the planet", he said. "It's eroding the soil capital. It's causing damage to public health."
Patrick speaks from experience. When on the Association of Livestock Standards Committee in the 1980s, he wrote the world's first draft of the Organic Dairy Standard. At the time, his farm was ahead of the game when it came to producing crops that affected the environment as little as possible.
"We were in the lead globally on the development of livestock standards", he explained. "So, what I did then when I wrote down the standards, I simply wrote down what we were doing on this farm because this farm is the longest-established organic dairy farm in Wales now."
Health benefits
The Soil Association highlights a number of health benefits if you eat organic food. It outlines how organic dairy products have 50% more omega-3 fatty acids than non-organic, which can reduce the risk of high blood pressure and rheumatoid arthritis. They also have slightly higher concentrations of iron and Vitamin E.
Organic dairy production isn't without some confusion, though, according to Hugh Padfield, owner of Park Farm and the herd of cows responsible for the milk for cheeses, such as Bath Soft and Bath Blue. He told us how the use of antibiotics on farm animals is misunderstood.
"My understanding is that you can't use any antibiotics at all on animals that are organic in the US", he said. "Whereas in the UK, if an animal is sick and shown to be sick, it would be cruel not to give it medicine."
Hugh states that, when an animal is on antibiotics, the milk is not used. It's not used for cheese production or milking and is not then sold, but he says it's also important that the animals are given antibiotics when they need them.
"What you are trying to prevent with the organic system is the pre-emptive use of antibiotics and medicines to boost production, or just reduce cost by preventing possible illness", he said.
Supermarkets and organic
It is hoped that by labelling a product as organic, it paints a clearer picture of the story behind the food. More people than ever are asking questions about where the food they eat comes from.
That sense of provenance is something that Patrick would like to see supermarkets do more of. Instead of just labelling food as organic, he wants to see the story behind the product. What went into bringing that product to a shop's shelf?
Patrick feels strongly that supermarkets need to change the way they sell all food, particularly organic products, in such a way that they allow the individual purchaser to know more about the story behind it, including, ideally, the actual farm where it was produced.
He feels that supermarkets who resist doing this are part of the problem, not the solution. He is keen for as many supermarket customers as possible to visit the shop's customer service desk, where they buy the products from, including cheese, and ask for more information about their provenance.
"Consumers should never underestimate their collective influence", he said.
The future
Organic farming has come a long way since Patrick first pioneered it and there is a feeling among the organic community that the future is bright. As more people become aware that the current approach is unsustainable, he expects to see a higher number of farmers investing in organic.
That said, organic farmers are still finding room for improvement. One challenge for Hugh on Park Farm is with weeds, which are tricky to deal with under organic methods. With each passing year, he's learning about how to get more from the ground he farms.
"It's about making sure that we get the manure back on the field, but also other organic matter back on the fields", he said. "There's a lot of food recycling now."
"As organic farming matures, there will be a better understanding of weeds, how to get the nutrients back into the soil, how to keep cows healthy and keep milk production high in an organic system."
Both Hugh and Patrick are certain that all farms will have to move in this direction. They expect the principles they are pioneering to become commonplace because, if they don't, the planet may not sustain all of the current farming and food systems.
As part of our celebration of all things organic, we have two special boxes. The first is our Organic Cheese Selection Box, featuring Hafod and Manchego. The second, our Organic Bath Cheese Box, is dedicated to Park Farm's best cheeses, with Bath Soft, Wyfe of Bath and Bath Blue.