Corporate Gifts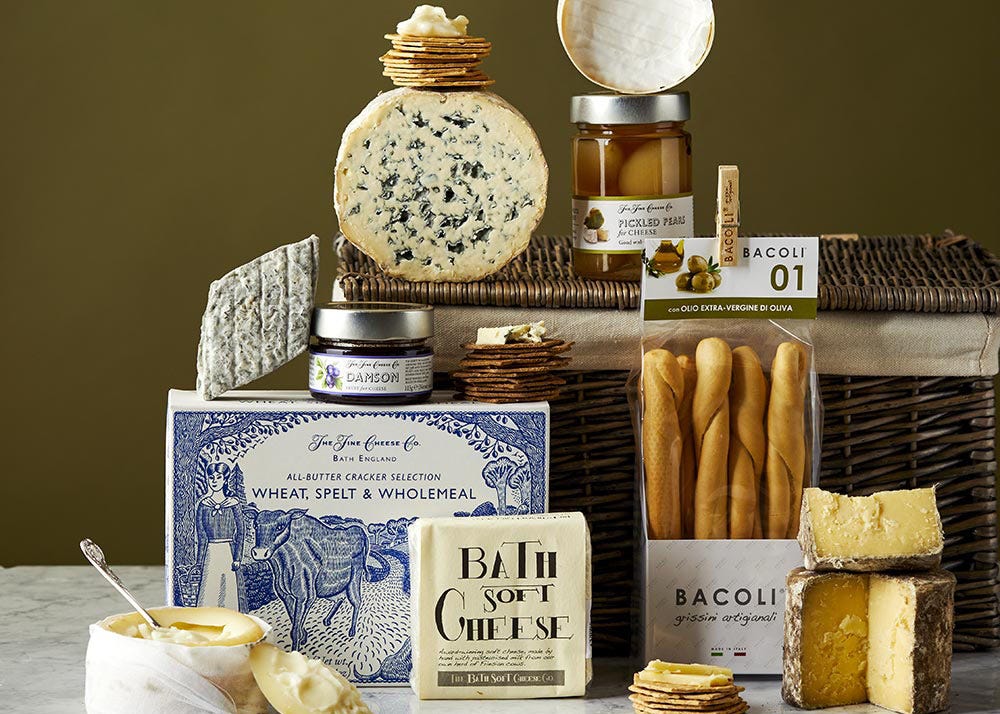 The Fine Cheese Co. specialises in artisan cheese and other fine foods, mostly from the British Isles and Europe. Tongue-tingling cheeses, luscious fruits, addictive pickles and wicked chocolates. We have 30 years' experience putting together unique gift ideas, and have prepared a number of selections that will make perfect presents for that important client, valued colleague, or however many hundreds of staff you may wish to thank.
Below are some of the questions that other customers have asked us, which will help explain how we can work with you.
What Can I Send?
Of course, we have only the best artisan cheese, and our own brand of cheese accompaniments; but we also offer wine, charcuterie, chocolates, truffle specialities, balsamic vinegars, gluten-free cookies, non-alcoholic frucht-seccos; in fact a complete range of artisan food and drink, of which a significant amount is imported exclusively by us.
What is the minimum number of gifts I have to order?
As we offer a bespoke service, we are happy to create one special gift for that important client or valued colleague, up to hundreds of gifts, as you choose.
What is the minimum order value?
There is no minimum order value.
How do I decide what to give?
You tell us what you have in mind, in terms of gift-giving:
The number of people;
The type of people;
Any dietary requirements;
The preferences of the gift-giver;
The amount you wish to spend.
We make suggestions for you to consider. You tell us your reactions, and we provide advice, until you have exactly what you want.


Will I be able to personalise the gift?
We will always include a personalised gift message and bespoke tasting notes, but we would also be happy to discuss anything else you might like to add.
How will the gifts be delivered?
As a standard service, we send gifts to any residential or commercial address in mainland Great Britain. Gifts leave us one day, and arrive the following day (except for some addresses in Scotland). Deliveries are made Tuesdays to Saturday.
We offer free delivery for all orders over £20, otherwise our current delivery charge for fresh food gifts requiring a next day premium delivery is £2.95 per gift. We can send gifts to other countries, dependent upon their import regulations, but, because carriage rates change dependent upon the country, and because for some countries import duty may have to be paid on some products, we can only let you know charges, once we know what you wish to send where.


My order is for an event I am hosting, when will the parcels arrive?

We will arrange for the parcels to arrive two days prior to your event. If your event is taking place on a Tuesday, we'll deliver the Friday before to ensure the selections arrive in good time.


I'm interested in organising a corporate event and would like to find out more about private cheese tastings.

We have a number of Cheese Specilalists available to join your event and lead an entertaining and informative cheese tasting.
To find out more, please contact events@finecheese.co.uk.


How Can I Know More?
So, if you are looking for gifts that are different from the normal, or wish to have something bespoke put together just for you.
For more information, call us on 01225 448748 or email corporate@finecheese.co.uk.