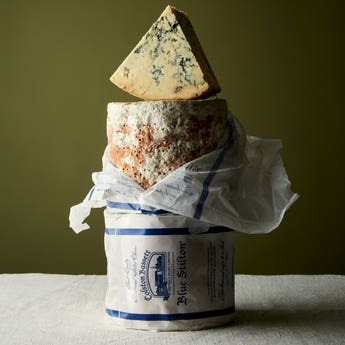 Colston Bassett Baby Stilton
P
Pasteurised
V
Suitable for Vegetarians
A smooth, velvety paste with a full, well-balanced flavour. A slightly sweet blue cheese, with a 'mineral-y' tang.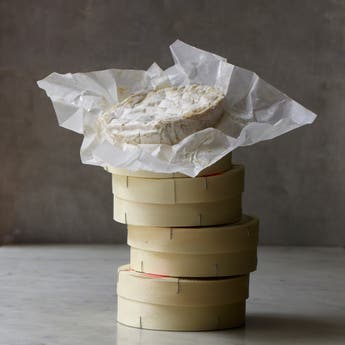 Camembert de Normandie
An unpasteurised Camembert, hand-ladled to produce an undulating surface and a powerful, fruity flavour.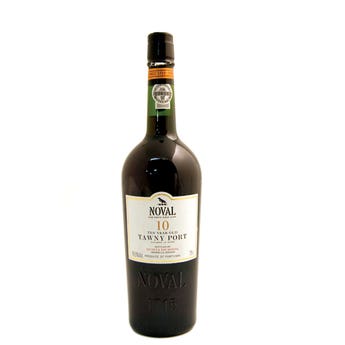 Noval 10 Year Old Tawny Port 75cl
Elegant in style. Old tawnies take on the characteristics of walnuts, dried fruits and spices, in colour and flavour. With this flavour profile, we find it goes wonderfully with Colston Bassett Stilton.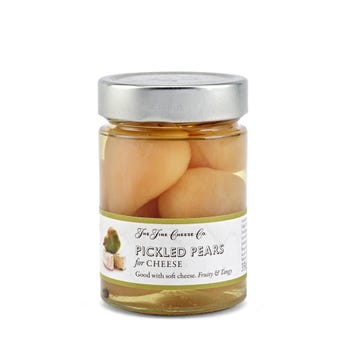 Pickled Pears for Cheese
Baby pears in spiced & sweetened white wine vinegar. Makes Brie de Meaux, or Camembert a new experience.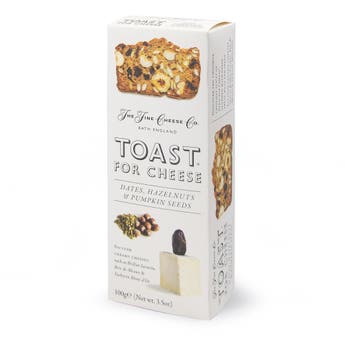 Toast for Cheese Dates, Hazelnuts and Pumpkin Seeds
Thin, light and crisp toast (baked twice like biscotti) and uniquely studded with fruits, nuts and seeds.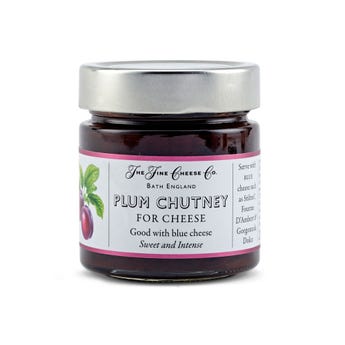 Plum Chutney for Cheese
Sweet and intense.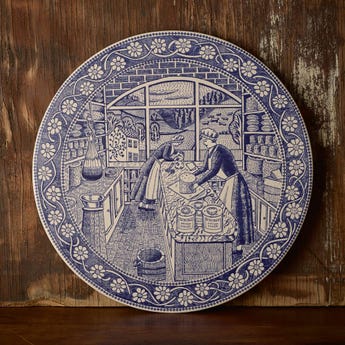 Ceramic Platter For Cheese
Cheese looks so good on blue and white china and John Broadley's charming designs are quirky, original and rooted in the country.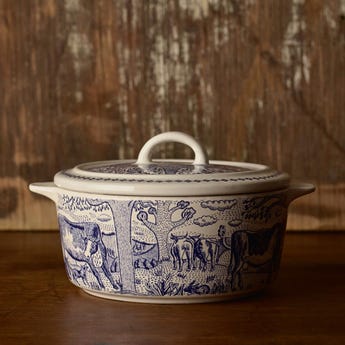 Ceramic Baker For Cheese
A handsome baker that fits a classic French Camembert. Bring on the new potatoes or the crusty bread. All-Butter Natural Cracker Selection Box
All-Butter Wholemeal crackers, All-Butter Spelt cracker and All-Butter Wheat crackers, in one beautifully illustrated box.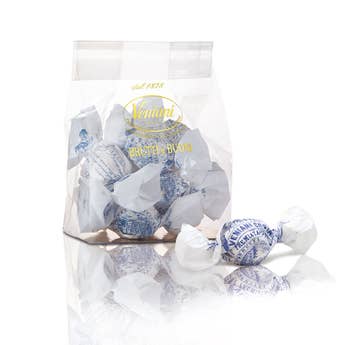 Veniani Brutti e Buoni Vanilla
Toasted almonds and hazelnuts in crispy meringue. Hand-wrapped in pairs in signature tissue paper.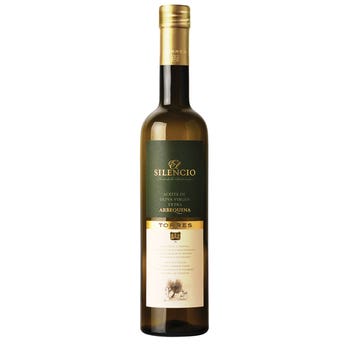 Torres EV Olive Oil Arbequina 'El Silencio' 500ml
From the estate of Los Desterrados in Lleida, Catalonia. Torres cultivate centuries-old Arbequina olive trees.
The olives are harvested and cold-pressed on the same day, and only the oil from the first pressing is used.
The resulting extra virgin olive oil is rounded and well balanced with aromas of artichoke, unripened almonds and fresh-cut grass. This is Torres signature oil.
Available in 25 cl. 50 cl. bottle sizes
Food Match
Perfect with strongly flavoured dishes where its
creaminess and roundness show through.
Alternatively, serve with bread, Manchego cheese,
or a Picos blue and olives as they do in Spain.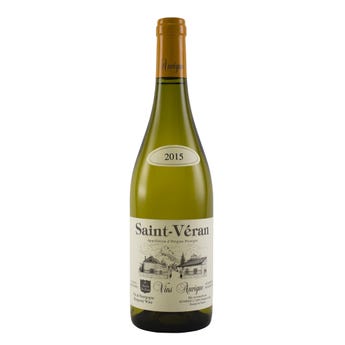 St. Veran 'Moulin du Pont' Domaine Auvigue 2020/21
Produced by one of the finest growers in St Veran, this is a wonderfully structured wine, showing white fruits with hazelnut and a hint of citrus to provide balance. You must be over the age of 18 to place an order for this product.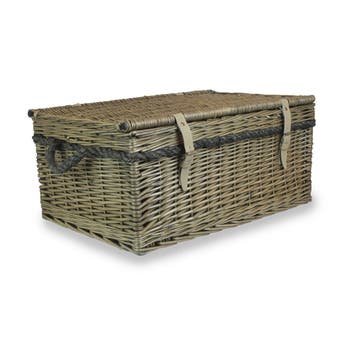 Extra Large Wicker Hamper
.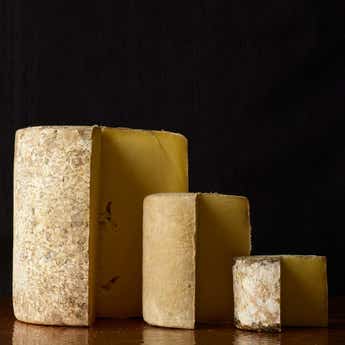 The Fine Cheese Co. Cave-Aged Cheddar 1.7kg
B
Suitable for Pregnant Women
V
Suitable for Vegetarians
Cloth-wrapped, hand-made Dorset Cheddar, cave-aged in Somerset for a depth of flavour and a moist texture. It is fruity and tangy with a rich, deep flavour and a hint of sweetness.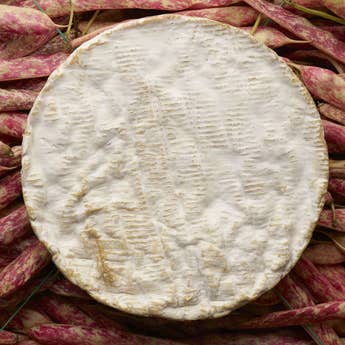 Baron Bigod Whole 1kg
A fabulously full-flavoured Brie-style cheese, hand-made in Suffolk by Jonny Crickmore from the milk of his own herd of Montbeliarde cows. A stunning cheese, with a rich, full, earthy flavour and a lingering finish. Slow Vinegar Wild Garlic Wine Vinegar-200ml
This vinegar has a rich earthiness and delicate garlic flavour. Add to roasting lamb, roast vegetables and chicken. Mix with minced beef to make delicious burgers.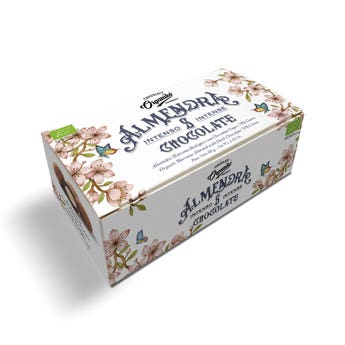 Chocolate Organiko Organic Marcona Almonds with Dark Chocolate 70% Cocoa
Organic Marcona Almonds with Dark Chocolate 70% Cocoa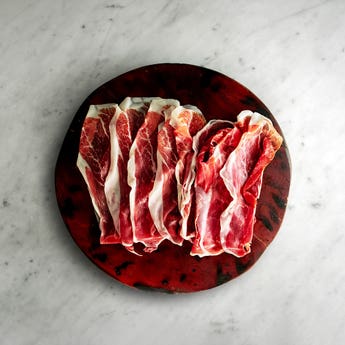 Devodier Prosciutto di Parma 30 months Eccellenze
A noble ham from Devodier's ancient cellars, with a minimum natural curing of 30 months, without preservatives, and with a unique aroma and intense flavour.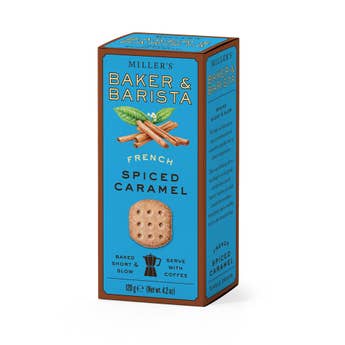 Baker & Barista French Spiced Caramel
A deeply sympathetic blend of caramel and cinnamon spice.
Baked short and slow for the perfect texture.