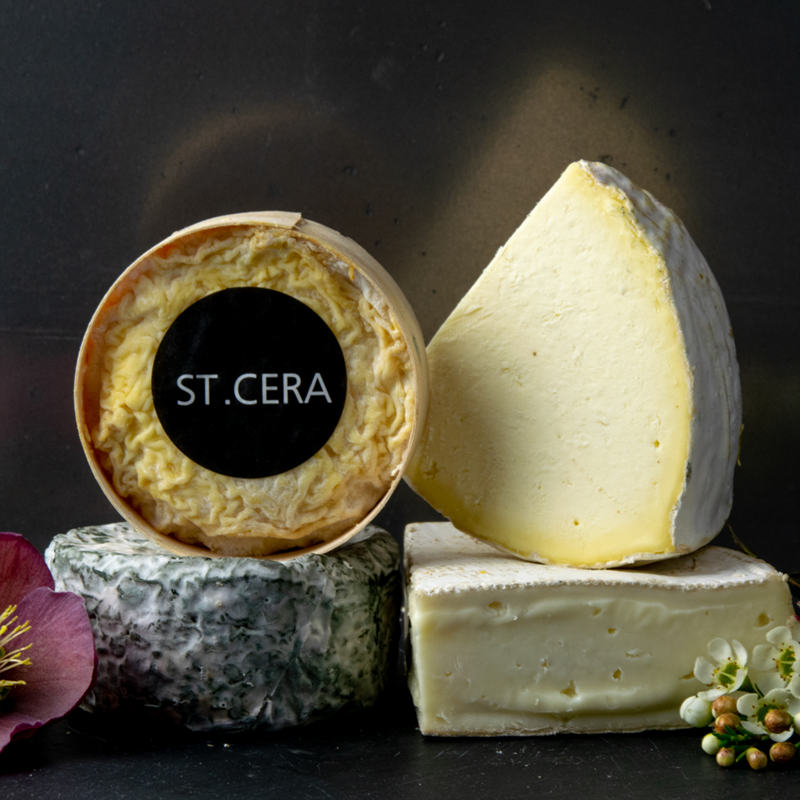 Fresh off the heels of International Women's day, we wanted to take a moment to celebrate the enormous contribution made to our industry by talented women. Our founder, Ann-Marie Dyas, was one such woman, whose enduring legacy is one of championing traditional, artisan cheesemaking. That is, cheeses that are made by hand. Cheeses made by small and independent producers. Producers who labour for the love of their craft, and not to mass-produce something that might net more profit. The result is something of quality, cheese that has depth and complexity and that is a far more rewarding experience on the cheeseboard, in terms of both flavour and texture. We think that is something worth celebrating.
Of all the British and Irish cheeses we sold last year, over a third are either currently made, or were originally created by, a female cheesemaker. The revival of our industry was shaped by the likes of Lucy Appleby, Ruth Kirkham and Thelma Adams, all of whom have had their hard work continued by their children. Others, such as the recently passed Mary Holbrook, considered by many to be the most influential British cheesemaker of the last half-century, had such a unique and nuanced way of working, that their cheeses passed away with them, a sad fact that makes the artisan cheeses we do have all the more unique and all the more worth recognising.
We've selected four of England's most talented contemporary cheesemakers and created a beautifully balanced selection box that contains just some of their prodigious output, something all the more impressive when you remember that each of the cheeses are made by hand. We've named the selection, "Ladies in 'Making", in tribute to their craft. It is also the lead selection for our 2020 Mother's Day Offering. Read on below for a short profile on each of our chosen cheesemakers, and also for a preview of our Mother's Day Selections.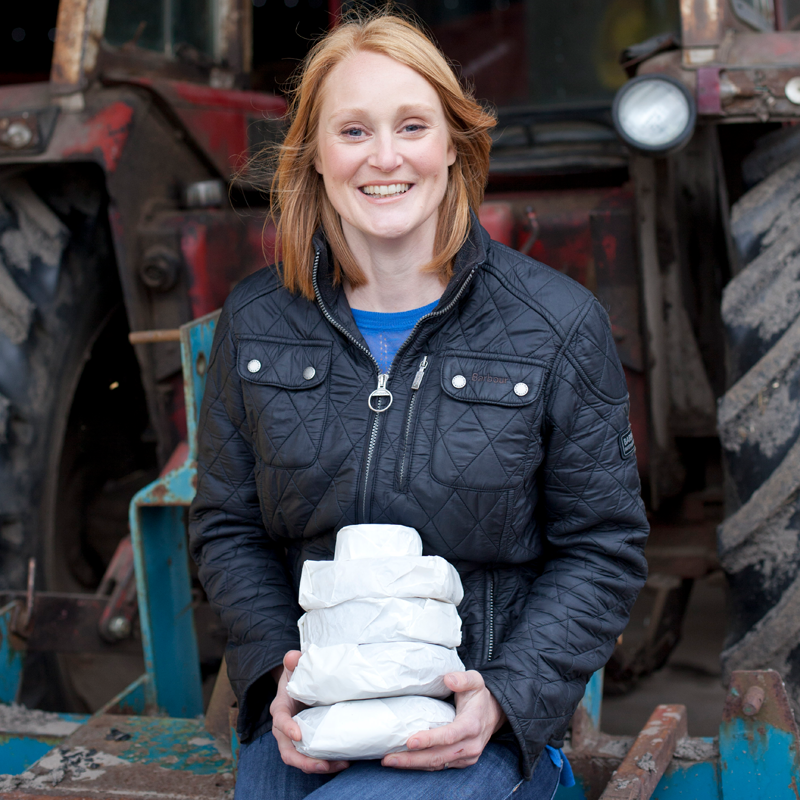 Claire Burt
Claire originally studied food and nutrition, and went on to work in the food trade for several years in product development, before deciding the time had come to do something for herself. In 2009, Claire began her goal of making hand-made cheeses using local, Cheshire milk.  Having no family farm to draw upon, Claire bought local milk, and made her first cheeses on her kitchen table. She soon moved on to creating a cheesemaking room in her cellar, and, when the business really took off, moved into a room at the Cheshire Cookery School. With the cheesemaking room sorted, Claire was able to concentrate on her cheese, and medals soon followed. 'Burt's Blue' is one such award-winning cheese. Significantly smaller than most blue cheeses, this sweet and creamy little number is something special indeed. The magic occurs when the cheeses are hand-pierced to allow oxygen to reach the interior. Small pockets of blue form in the creamy paste, and the delicate flavour permeates the whole cheese.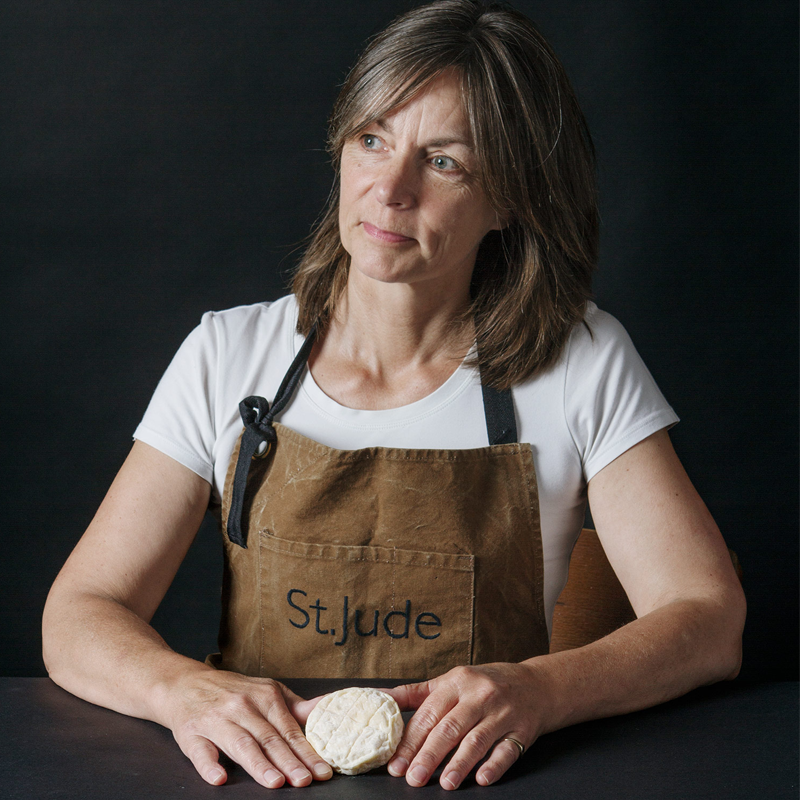 Julie Cheyney
Julie first started making cheese in 2005, when she and Stacey Hedges created Tunworth. After only one year, the pair were delighted to win 'Supreme Champion' at the British Cheese Awards: a justly deserved accolade but a very rare one for such a young cheesemaking pair. In 2012, Julie set up her own dairy where she began to make St. Jude. Believing that cheese should be made slowly and gently, Julie performs every step in the cheesemaking process by hand. St. Jude is worth the wait. A thin, wrinkled coat, sometimes with a delicate line of cream underneath, encases a rich core. The taste is delicate but complex, with a lingering finish.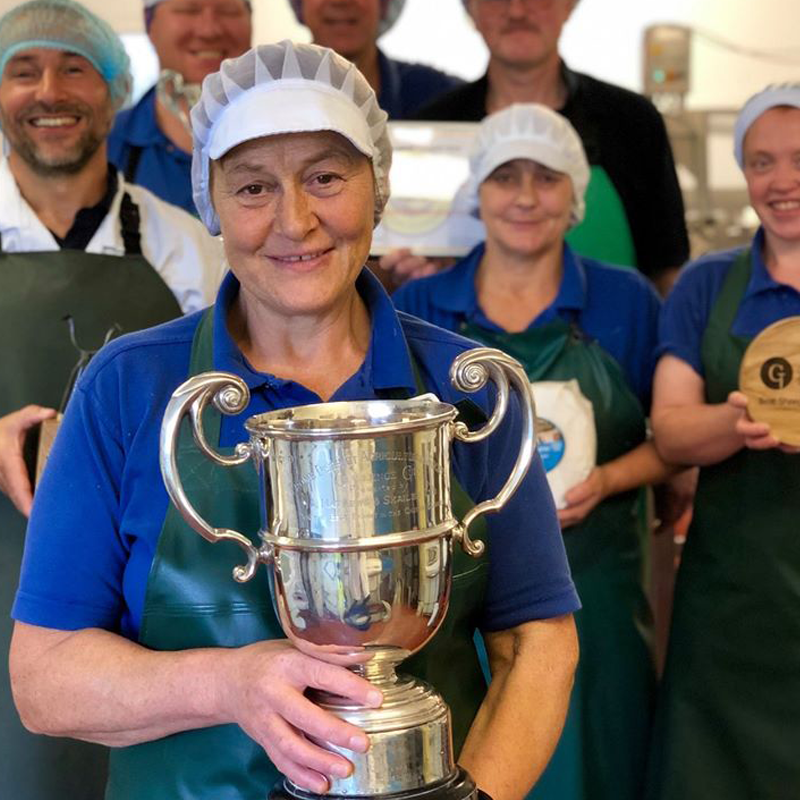 Debbie Mumford
Debbie Mumford makes her cheese on the Sharpham Estate, overlooking the slopes of the River Dart, near Totnes in Devon. The estate has a vineyard, dairy and creamery, where they have been producing wine and cheese for over thirty five years. The cheese was originally made in the coach yard next to the house, but, in April 2003, cheesemaking was moved into a new purpose-built creamery sited next to the winery. The building is modern and bigger, but the team still employs the same traditional techniques, and the cheeses remain fully hand-produced. One of Debbie's cheeses, Sharpham Rustic, has a Pecorino-like shape, a deep golden curd, and a rich savoury flavour. It is a wonderful example of Debbie's talent at employing old skills to create a contemporary cheese. Using  rich and creamy Jersey milk, Debbie captures the richness of a triple cream; and then, by maturing the cheese, she creates a more concentrated flavour.
Anne Wigmore
Anne Wigmore began making cheese in the experimental dairy at the National Institute for Research in Dairying (NIRD) in 1984, having worked there previously for a number of  years as a microbiologist. Soon afterwards, she decided to set up on her own, and, in 1986, Village Maid Dairy was born in a converted building at the end of her garden. Anne's knowledge of cheesemaking is highly technical, but she has a great feel for the cheese too. One of Anne's hand-made cheeses, Wigmore, is a washed-curd cheese, which means that an amount of whey is replaced with water during the make, so leading to a gentle, delicate flavour and a smooth texture. Wigmore is complex and fruity, rich and unctuous, and has a great delicacy of taste and texture.
Our Cheese Selection Boxes For Mother's Day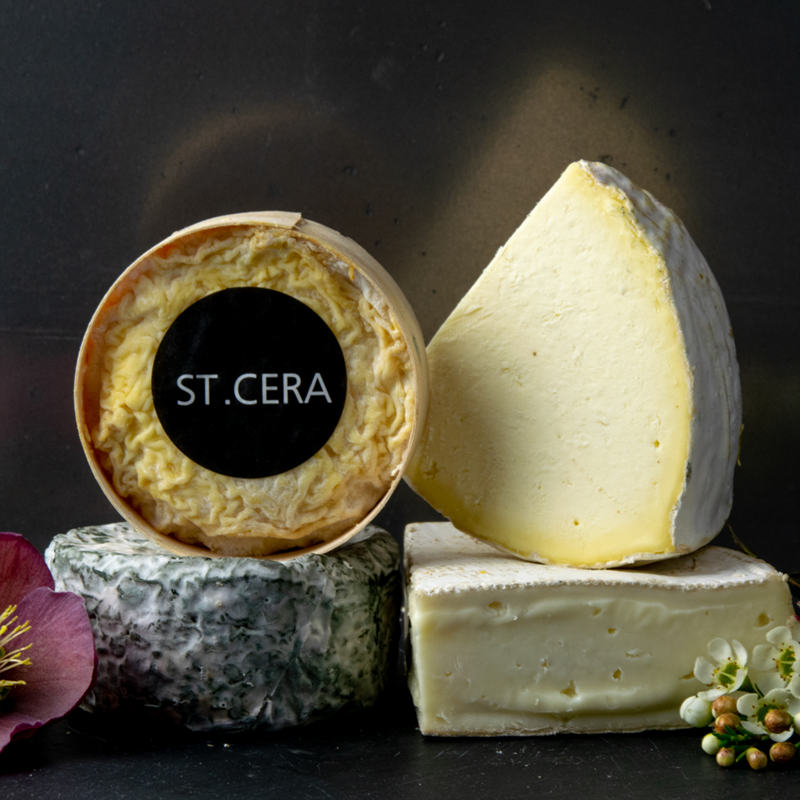 "Ladies in 'Making" The Mother's Day Cheese Selection Box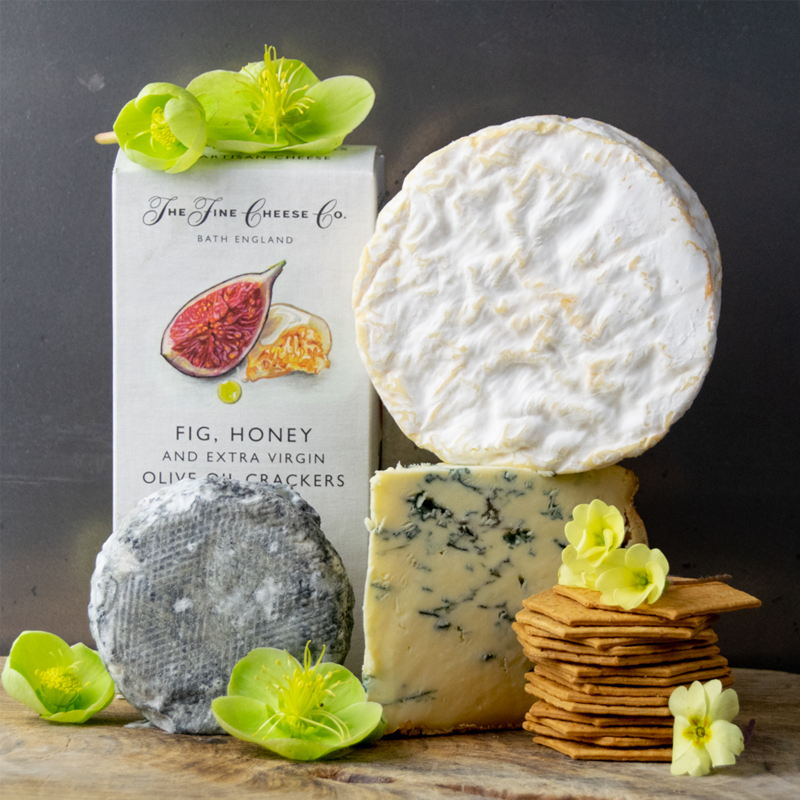 "Maiden England"    The First Mother's Day Cheese Selection Box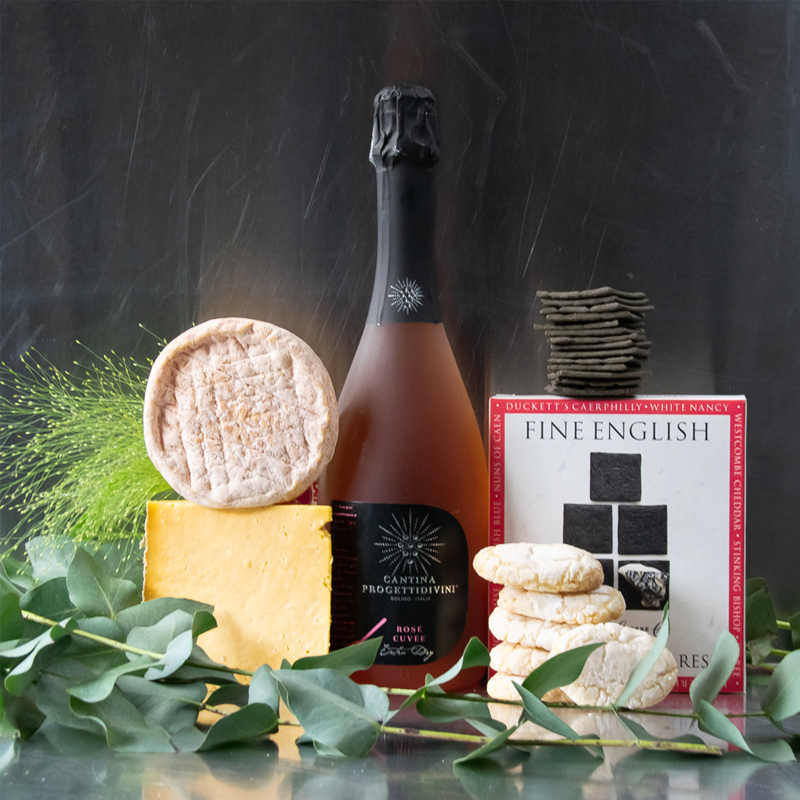 "Sparkle" The Mother's Day Cheese and Perfect Partners' Selection Box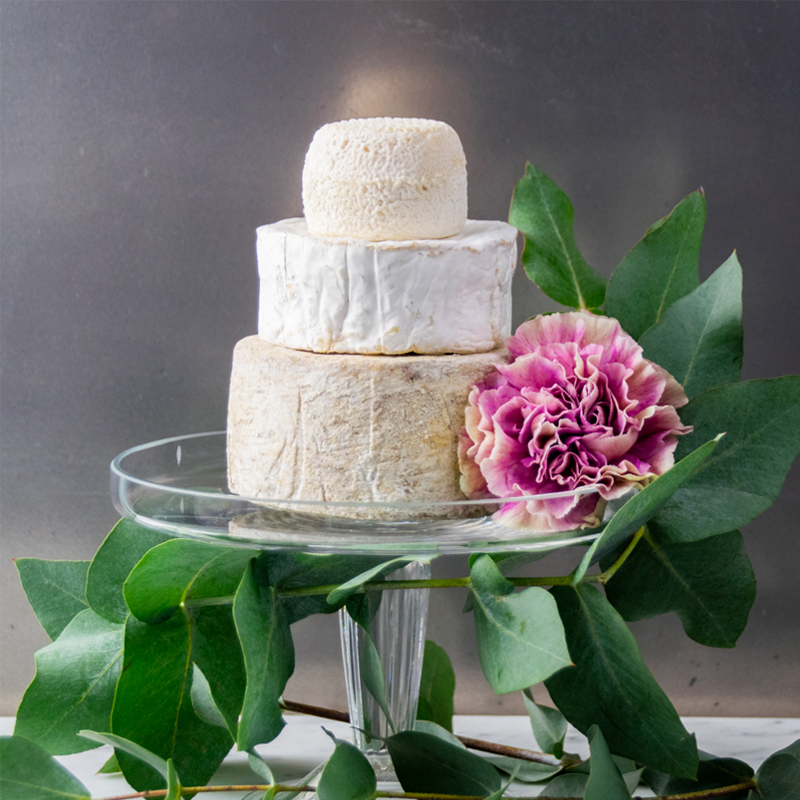 "Keeping Mum" The Mother's Day Cheese Celebration Cake (Gift Wrapped)