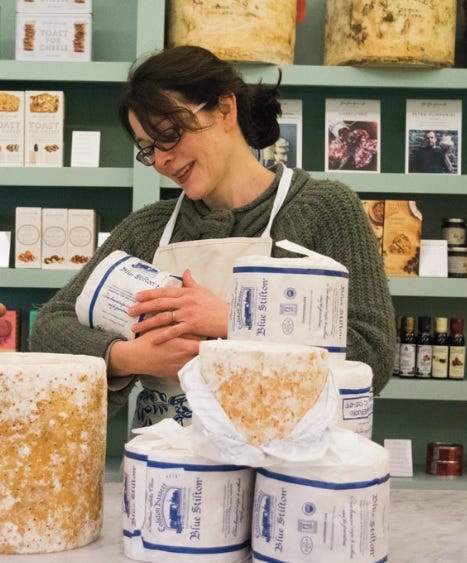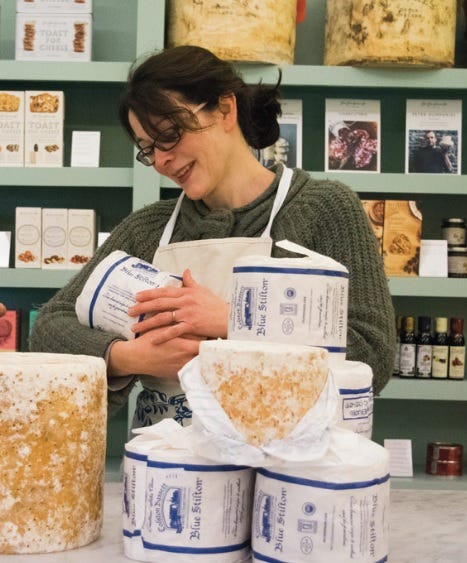 In the run-up to an unusual Christmas, a number of our Cheesemongers have donned their helpers' hats and have prepared a few words of wisdom. Their aim is to help move you from feeling restive to feeling festive by equipping you with the confidence and know-how for creating unbeatable cheeseboards this holiday season.
Starting with today's, this series of blog posts will see our Cheesemongers offer timeless advice to all, from the beginners who still have 'L plates' on their platters, to those experienced enough to have earned a blackbelt in the blues.
This week we'll hear from Ruth, our Cheese Care Specialist, who has advice for us on how to care for cheese at home, and how long it might last for. But first! Do remember that a good cheesemonger will always provide you with cheese that is perfectly ripe, and ready to eat from the moment you receive it.
Over to Ruth…
Q: Hi Ruth. I've placed my order for December and am looking forward to getting my hands on a handsome hunk of Cheddar. How long can I expect it to last?
A: Good work! Now, for a cut of a hard cheese like a Cheddar (or Gruyère/Manchego etc.), you can generally expect it to keep for up to 14 days. The same is also true of robust blues like a Stilton or a Fourme d'Ambert. But the important thing is that you have to keep your cheeses well-wrapped in either waxed paper or foil. If you haven't wrapped your Christmas presents yet, this will be good practice for you.
Q: Righto. And is there a similar shelf life for soft cheeses like a Christmas Camembert?
A: Not quite, but the same rule applies. Bries, Camemberts and other soft cheeses, when wrapped and stored well can last between 10-14 days. They can be a little more delicate though, so you would do well to keep a closer eye on them. Some soft cheeses will arrive in their own wooden box. If you hold on to and make use of this, it will help to keep your cheese in tip-top condition.
Q: What if my cheese is a whole cheese, and hasn't yet been cut into like a St. Maure?
A: As each cheese will be sent to you in peak condition, you can expect a shelf life between 7-14 days from the point of arrival. Do be mindful of fresher cheeses like Mozzarella though, as they are best eaten within three to four days.
Q: Ok, so I now have my cheese, and an idea of how long it can last. How should I take care of it?
A: First – we need to find your cheese a home. For most people, the best place to keep their cheese is in the fridge. At this time of year, competition for space in the fridge can be fierce. If you can, you'll want your cheese to take up residence in the salad compartment. It is slightly warmer and more humid than other areas of the fridge.
Q: Where else might I store my cheese?
A: Those with a larder or cellar can keep whole, hard cheeses such as a Cheddar truckle there. However, all soft, blue and cut cheeses will be better off in the fridge. So try to find room!
Q: How do I stop my family from turning against me if I want to introduce a strong-smelling cheese to the fridge?
A: I've never had that problem personally, but I understand it can be quite the dilemma. Cheeses that have a pungent aroma can be managed by first sealing them inside a plastic tub, as this will help contain the smell.
Q: I couldn't wait for Christmas, and I've had a little nibble of my cheese already. How should I store the rest?
A: Who could blame you. When wrapping your cheese back up, it's best to avoid cling film, as it's not the best at preserving your cheese. It traps moisture, so it's better to reuse the waxed paper your cheese arrives in, or failing that, foil.
Q: It's been a couple of days and my cheese seems to have developed a layer of surface mould. Has it gone bad?
A: Not at all. If lockdown has taught us anything, it is the transformative power of a quick haircut. Grab a knife and simply remove a surface layer from the cheese and then it will be back to its best.
Q: Thanks! Any other advice?
A: Don't forget that the size of your cheese will play a part in its longevity. The bigger the piece the longer it will last. A small sliver of cheese will dry out faster than a satisfying hunk. And, of course, don't forget to secure your order early. For cheese to be perfect on Christmas day, we recommend selecting a delivery date between the 18th and 23rd of December. If your cheese is going to arrive any earlier, just follow the advice in this guide as closely as you can. If you're the forgetful type, don't worry. We include a pocket guide in every order we send out.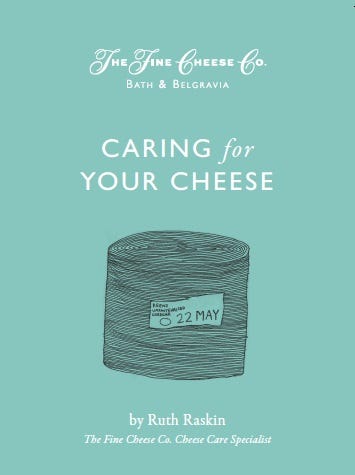 ---
---
That's it for today's pointers. Next week we will learn a few tips on how to host a remote cheese tasting event with your friends and family, even if lockdown is keeping you apart.