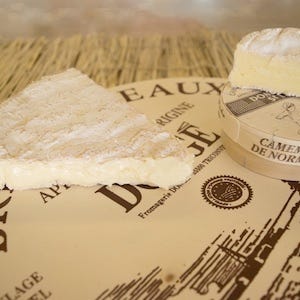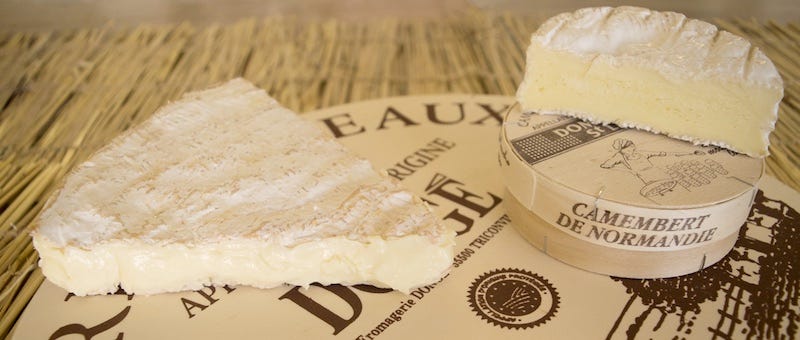 Slice some Brie, serve it on a Natural Cracker and the cheese will taste fairly similar to a Camembert, if you were to do the same. Despite both being made from cows' milk and both being soft cheeses, they are, however, quite different.
For one, just look at the two side by side and you'll see these are not the same cheeses. Take our Camembert Domaine de St Loup as an example. It's about the size of a CD, whereas our Brie de Meaux Dongé isn't too far off a steering wheel. It's these differences in size that cause Brie to ripen more slowly than Camembert.
Camembert and Brie are not made in the same location either, with each place having their own distinct terroir contributing to the subtle differences in the flavour of the cheeses. Camembert, for starters, was first made in the Normandy area of Northern France, giving it a powerful, meaty flavour.
Elsewhere, Brie de Meaux, while still in Northern France, has its origins much further East, almost an hour's drive beyond Paris. When you try this Brie, there is still that Camembert-like meatiness, but it's slightly more complex, with the different terroir providing more vegetable undertones.
A sense of history
If you look at the history books, you'll see Brie mentioned as far back as the eighth century. Camembert, by comparison, is a more recent creation. There are reports of this cheese first being made almost a 1000 years' later, in the late 18th century.
Although Camembert was a newer entrant into the blooming rind category of cheese, it still managed to quickly win the hearts of cheese-loving folk across France. Such was this popularity, that Camembert became one of the first French cheeses to be distributed nationally.
One reason for Camembert's rise to national hero may be down to its packaging. The cheese comes in a box, making it safe to travel. These boxes were first used when Camembert was moved from Normandy to Paris for its sale. Brie, though, is more likely to be sold as a freshly cut wedge.
As you can see, there are some interesting differences between Brie and Camembert. Some of you may have your own favourite, but for us, they are two superb cheeses that we can't get enough of!