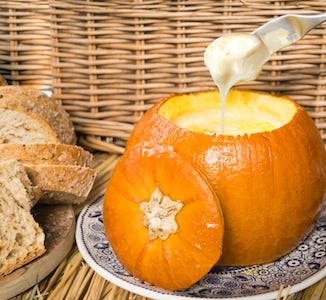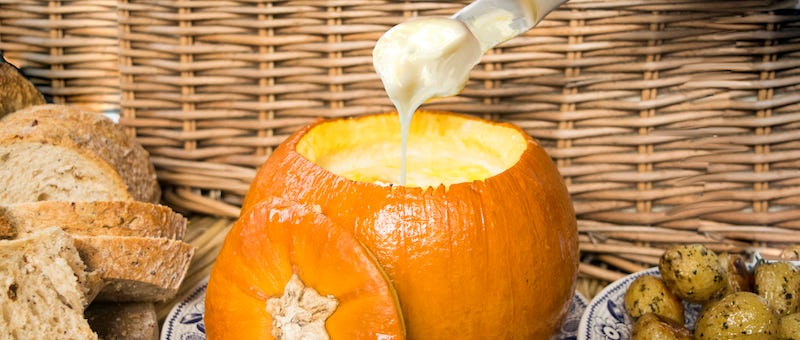 Baking a pumpkin filled with as much cheese as you can fit in is the recipe for a truly special, comfort meal that's not just perfect for Halloween! As our designer, Claire, puts it, "this is the best bonfire night recipe ever!"
This is an annual tradition for Claire. The pumpkin can be dipped into, like a traditional cheese fondue, or if you roast it for a while longer, then the pumpkin's flesh becomes gorgeously tender and is delicious when scooped out with a dollop of the rich, velvety cheese sauce.
Ingredients
A whole pumpkin
150g Affineur Walo Aged Emmental, grated
50g of Colston Basset Stilton, grated (crumbed)
150g of Keen's Cheddar, grated
150g of Affineur Walo Le Gruyère AOC Extra Mature, grated
1 tbsp corn flour
100g crème fraiche
2tbsp white wine
1 clove of garlic, crushed
Method
1. Heat the oven to 180°C.
2. Prepare your pumpkin using a knife to cut the top and create a lid around the stem. Scoop out the seeds and any loose fibres.
3. Pre-heat a baking tray, add a little oil over it and then position the pumpkin in the middle. Ensure there is some oil rubbed into the outer skin too.
4. Mix the cheeses and corn flour together in a bowl.
5. Layer up the cheese, crème fraiche, wine and garlic inside the pumpkin.
Replace the lid.
6. The size of your pumpkin will impact the amount of time you cook it for. A 1kg pumpkin will take approximately one hour to cook. Add an extra half hour for very half kilo.
7. Remove the tray from the oven when your pumpkin has cooked for the required time. Then take off the lid.
8. Replace the tray in the oven and bake for an extra 10 to 15 minutes, until the cheese is browned and bubbling.
Serving suggestions
Serve with crusty bread and roasted potatoes.