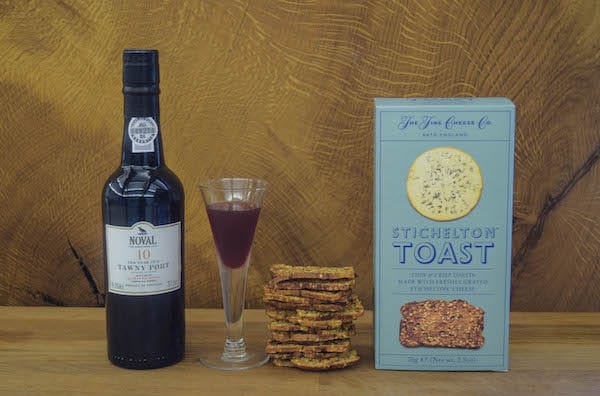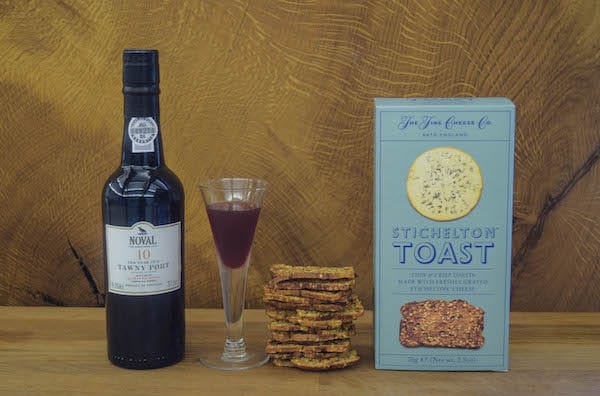 Together with cheese-maker Joe Schneider, we've created Stichelton Toast, an utterly unique type of toast and a collaboration we're proud of.
The toast is made by combining a generous amount of unpasteurised Stichelton blue cheese with buttermilk, our, sesame seeds, and a dash of lemon juice, before it's carefully seasoned.
Each slice of Toast is cut thinly to make it super-light and crunchy, and the taste is deeply savoury. This is unlike any of The Fine Cheese Co. range of Toast products, rather than being an accompaniment for cheese, Stichelton Toast is a snack in itself.
Great with a glass of port
Stichelton Toast almost cries out for a drink. Its cheesy, slightly salty, umami tang and crispy texture makes a sophisticated mouthful that begs alcohol. A chilled 10-year Tawny Port is Stichelton Toast's dream partner, as savoury loves sweet.
Like the rest of the team here, our Co-Founder, Ann-Marie Dyas, is hooked on this new product we've created, so much so that she feels it should come with a warning.
"Stichelton Toast has us all in raptures – it's ace! We have a product that will build on Stitchelton's fame and reputation. Warning – it's so good, it's addictive."
Joe, Stichelton's creator, was born American, but has a dual British citizenship. He's been cheese-making in England for almost 20 years, and specifically making his creation, Stichelton, for a decade on the beautiful Welbeck Estate, in Nottinghamshire.
Bringing back the blue
The tradition of making this famous blue cheese was revived by Joe in 2005. Unpasteurised, it has a long slow make and the gentlest hand-ladling of the curds. The result is a revelation - a cheese that is ultra-creamy, rich and nutty, with a gentle blue tang.
Cheese-maker, Joe Schneider, is as much in love with this wonderfully tasting new snack as we are, but we should let him do the talking:
"We love working with The Fine Cheese Co. One philosophy I have tried to adhere to in our business is to only sell our cheese to people who make it fun, who get what we are about, and celebrate cheese for its flavour and provenance, and put that first before all the commercial nitty gritty.
The people at The Fine Cheese Co. are fun to work with and the business is cool, so obviously when we started the collaboration process of developing Stichelton Toast, we were hoping it would make us cooler by association.
I ate the sample box they sent me in one sitting at work, so no Tawny Port, but they were definitely addictive. I'm really excited to see them launch, and am proud of being a part of The Fine Cheese Co. range."
Stichelton Toast launched at Speciality & Fine Food Fair 2016 and is available now.