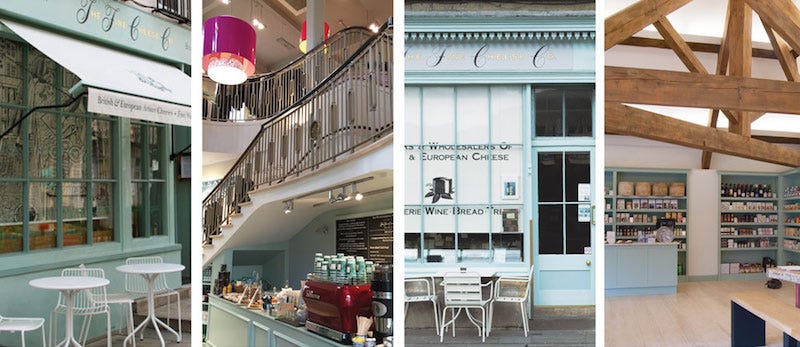 Did you know we  have three cheese shops and café destinations in Bath and London? It's been an exciting two years as we've grown from having just one cheese shop in Bath to three very different locations.
Earlier this year, our original Bath cheese shop and café in Walcot Street was joined by a London cheese shop and dining experience in Motcomb Street, Belgravia. We're happy to say it's a launch that's proven to be a big hit with the locals.
Before Belgravia, we opened our Warehouse shop, which is beyond the outskirts of the city, just off the M4.
The Fine Cheese Co. Bath

Starting where it all began, The Fine Cheese Co. Bath might be more than 25 years' old, but it's showing no signs of losing the charm that we tried so hard to create. It still takes our breath away, with its shelves of carefully selected cheese that's both the best of British and the best of Europe.
Our skilled chefs, using only the finest ingredients, cook and bake from scratch, and prepare everything in our café, including, for example, our monthly-changing seasonal menus, our macarons and, of course, our sandwiches.
The shop too has a fantastic range of charcuterie, imported directly by us from Italy, France and Spain, all freshly cut for you. Then there's biscuits, crackers, chutneys, chocolates, juices, nectars and wines.
The Fine Cheese Co. Belgravia

Located in Motcomb Street, The Fine Cheese Co. Belgravia has 110 artisan European cheeses lining its shelves. Our charcuterie is some of Europe's finest too and it's all freshly cut to order on a vintage Avery Berkel slicer, just as we do in Bath.
À Table, our dining experience, is new for our first London venue. It offers the best from the cheese shop and much more. Complementing cheese and charcuterie plates on the menu are starters, salads and plats du jour. Each is prepared and cooked by our skilled chefs.
Enjoy a bottle from our unique 'Wine Wall' that boasts 100 European bottles, from Muscadet to Domaine des Lauriers to Château D'Yquem 1996. Each and every wine bottle can be poured with your meal for its retail price, plus a £12 corkage fee.
The Fine Cheese Co Warehouse Shop

A very different concept to our other locations because here, at The Fine Cheese Co. Warehouse Shop you can save 20%. You just need to order a whole artisan cheese wheel or a case of delicious store cupboard item, but retail prices are still available if you want to purchase just one thing.
At our Tolldown address, why not browse a catalogue of products or simply explore the Warehouse Shop's shelves for something special? As with all of our shops, a trained cheese-monger is on-hand to provide recommendations and advice if you have questions.
Please check The Fine Cheese Co. shops for our opening hours. Each place is different, but you will receive a warm welcome in all of our locations. If you're not close to either Bath or London, you can always browse The Fine Cheese Co. mail order website.
Our Jigsaw Pop-Up Café is now closed. For great coffee ( and tea) visit our Walcot Street shop.