December is poking its frost-nipped nose round the corner and we're all getting prepared for Christmas. Though we may enjoy more than our fair share of different cheeses throughout the year, much like everyone, else our Christmas cheeseboard often sees us returning to the classics. Complex Stiltons, full and fruity Bries and strong and tangy Somerset Cheddars. But what about in the run up to Christmas, and all those parties and gatherings there might be to attend? You don't want to run the risk of indulging in the classics too soon, but we are not ones to argue for abstaining. Far from it. We have devised a list of cheeses that will whet the appetite for festive fare but will treat you to flavours, textures and milks that you may not experience on the big day.
The run up to Christmas is also the perfect time to introduce the cheese-curious among your circle to cheeses they may not yet have had the pleasure of trying, as we find the Christmas spirit is often also an adventurous one.
---
⭑ WASHED RIND CHEESES ⭑
• VACHERIN MONT D'OR
The ultimate party cheese. Many of you may be planning to bag one of these cheeses for Christmas anyway, but for any dinner parties or gatherings you have in the meantime, there is nothing quite like a decadent, dippable Vacherin Mont d'Or. Gather round the table, spoons or crusty bread at the ready, and dive into the liquid gold encased within. • ÉPOISSES
Another favourite for parties – if for no other reason that this pungent treat won't hang around for long enough to take up space in the fridge. Washed rind cheeses are great for Christmas parties and convivial gatherings because there are always those who might be curious, but have not yet made the leap. Witnessing friends become converted is always a thrill, especially when they discover the taste is far more enjoyable than they might have thought. ---
⭑ GOATS' MILK CHEESES ⭑
• ST MAURE DE TOURAINE
It's been an all-French line up so far, and no French collection would be complete without a Loire valley goats' milk cheese. St. Maure de Touraine is another one of those cheeses that some at a party may not yet be familiar with. Well a goats' log is the perfect nibble next to an open log fire. Creamy and full-flavoured, we adore this cheese. • RAGSTONE
The first of the Brits! Charlie Westhead's twist on the classic French logs has a white mould, great complexity, and a lemony freshness that sets it apart.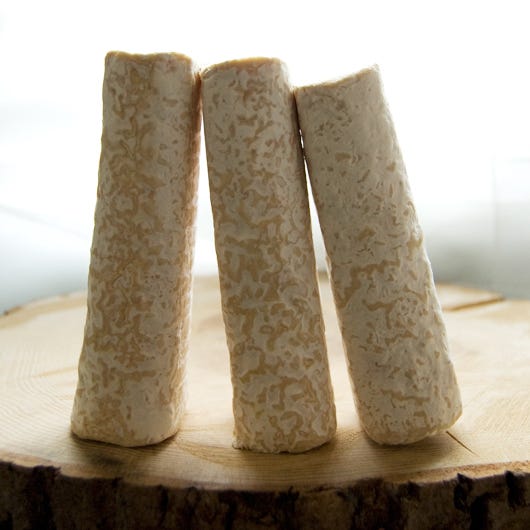 ---
⭑ BLUE CHEESES ⭑
• ROQUEFORT
Stilton may be the king of the blues, but Roquefort is a royal blue in its own right. While Stilton is made from cows' milk, Roquefort is made from raw sheep's milk and has a strong, deep and unmistakeable flavour from the Roquefort caverns it is matured in. • STICHELTON
This is a little bit of a cheeky recommendation, but we make no apologies. Stichelton is made to an old Stilton recipe – it is made from raw milk, whereas a Stilton PDO needs to be made with pasteurised milk. As a result it is similar to the Christmas classic, but we think you will love the difference. ---
⭑ HARD CHEESES ⭑
• MANCHEGO
For both our hard cheese recommendations, we have selected well known cheeses, but wonderful examples of their style. This Manchego Semi Curado has incredible complexity with sweet, savoury and nutty tones to it.
• KING RICHARD III
Made to a traditional Wensleydale recipe, King Richard III is creamy, honeyed and lactic. It is a world apart from anything with cranberries in it, and a wonderful example of how good cheese of this style can be, without the need of adding fruit.