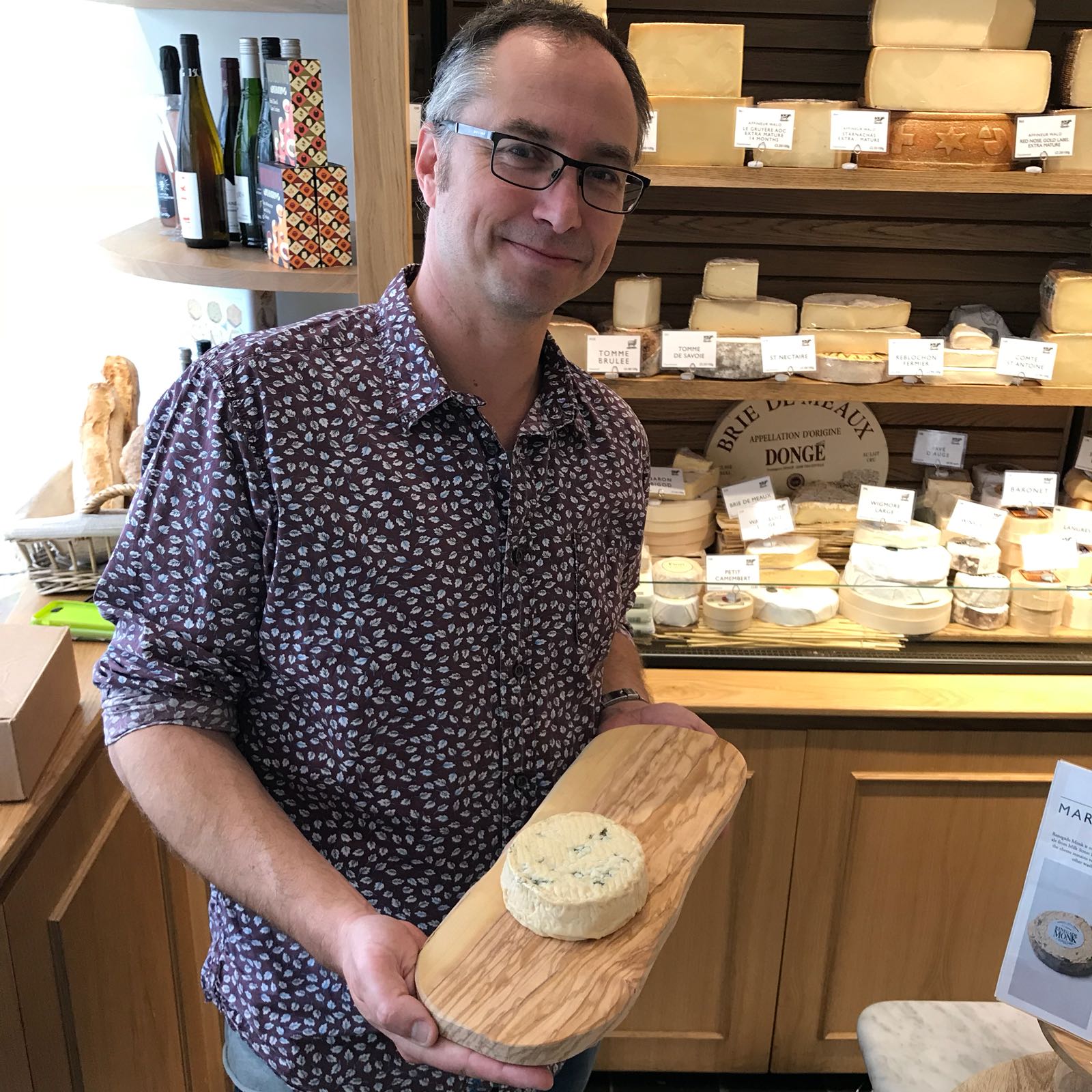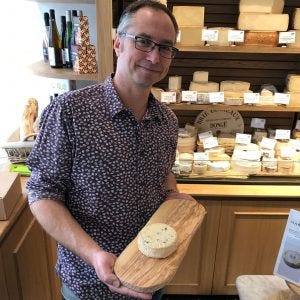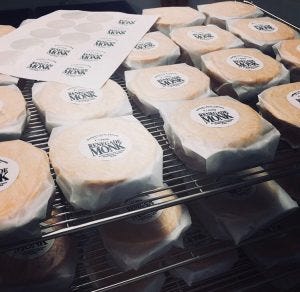 Marcus Fergusson and his cheese, the aptly named 'Renegade Monk'
Cheesemakers are like their cheeses: they're supposed to take time to mature and fully develop.
Marcus Fergusson, of Feltham's Farm Cheeses, is a fascinating character, as he doesn't quite fit this mould. Like his cheese, he is something of a renegade. He's prodigiously talented and far more comfortable taking risks than a cheesemaker of his experience has any right to be. He's also disarmingly open and honest about his journey to get to where he is today, both on his blog (which is excellent) and in person.
I'm always excited about trying a cheese when it's made a certain name for itself. One of the reviews that Marcus proudly displays on his website describes Renegade Monk as, 'a vicious little cheese'. It certainly has an edge to it. It's pungent and moody, a bit like a surly teenager. You can imagine it spending a lot of time listening to Linkin Park and complaining about being misunderstood. It would be easy to understand why – there aren't many cheeses like it. Something of a hybrid, it's a cross between a washed rind and a blue cheese. The rind is washed in Funky Monkey ale, and blue cultures are used to enhance the flavour – as a result there may be blue veining, there may not. It's a little bit of a lottery, but one you'll end up winning as the flavour is sublime...the pungency is balanced by a pleasant sweetness, a slightly more floral taste than other washed rind cheeses, and it has a very subtle blue undertone.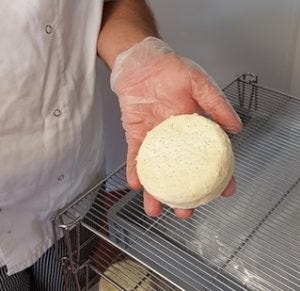 A young, still developing 'Renegade Monk'
As with any temperamental youth,  you might be tempted to say it's merely 'going through a phase', but given the awards and recognition it's already garnered, and the clear talent and drive of Marcus, all signs point to this being a rather more permanent state of affairs.
After just six months of production, Marcus won Gold for the 'Best Artisan Soft Cheese' at the Global Cheese Awards, and was shortlisted for 'Best New Cheese Producer' at the Great British Cheese Awards. Renegade Monk was one of 10 cheeses shortlisted for 'Best Cheese' at the Great British Food Awards and was awarded two stars at Great Taste 2018. An immensely impressive feat when you consider that only one third of the 12,000+ entered products receive accreditation at all. Most recently, Marcus was runner-up for 'Best New Cheese Producer' at The Great British Cheese Awards.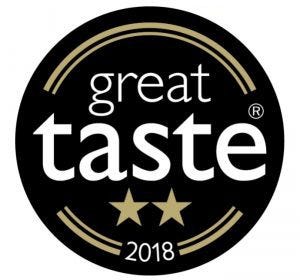 One of Feltham Farm's many awards.
Marcus and his family moved to their farm from London about six years ago, and it was actually his wife Penny's idea to start making cheese. The Fergussons give new meaning to the phrase 'taking your work home with you' as the cheesemaking operation currently takes place on the side of the family home, in a converted nursery. The current set up allows Marcus to make 200 cheeses a week. Every part of production is done by hand, with Mondays and Thursdays being dedicated to making new batches, but Marcus' attention is required everyday to make sure the cheeses develop correctly.
Marcus is a man whose ambition keeps up with his talent; his farmland is ideal for expansion and he'll shortly complete work on his new, larger cheesemaking facilities.
With double the height, and double the making space, temperature and humidity can be regulated all the more easily. There will also be three maturing rooms as Marcus plans to introduce two new cheeses to his range. Another exciting new advantage for Marcus will be the ability to pasteurise all his milk himself, giving him much more control over what he does. Marcus will have space for a much greater quantity of milk, and in time, will be able to process 5000 litres of milk per week compared to the 400 litres that is currently possible. The number of pigs living on the farm will also increase, as they perform the valuable work of disposing of the excess whey, and so his herd will increase to around 100.
 Some of the family's pigs.

A recent batch of 'Renegade Monk'
Marcus might be a relatively new cheesemaker (his first sale was in February 2017) but his success was not an overnight fluke. He's spent a lot of  time learning from others in the  industry, and has put a lot of graft into his craft. As well as taking courses at River Cottage and The School of Artisan Food, the good people at The Bath Soft Cheese Co. opened their doors to him and helped shape the skills he has today. With the number of award-winning artisan cheeses The Bath Soft Cheese Co. have, Marcus clearly learned from the best.
Marcus is also nothing if not meticulous – an essential trait to have for anyone practicing the nebulous art of cheesemaking. His skills are all the more impressive when you consider that most starting cheesemakers aim to tackle a safe and predictable type of cheese. This is not the path for Marcus; his approach is bold, courageous and innovative. Blue or washed rind cheeses can be unpredictable and success is far from guaranteed…but fortune and the gods of cheesemaking favour the brave.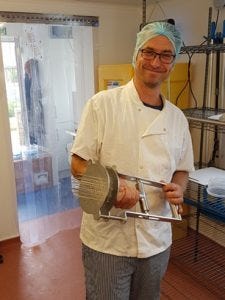 Marcus and his 'spiker'.
Marcus is an exciting, talented and creative new cheesemaker, and we can genuinely state that trying his cheese is an entirely new experience for the fan of artisan cheese. We also recommend you take a look at his blog . It offers a great insight on how to go from dreaming of becoming a cheesemaker to making it a reality. Or better yet, you can meet the man himself by coming along to The Fine Cheese Co. cheese festival on October 27th at Milsom place.
Renegade Monk can be ordered online here. For a real treat, why not try it as part of our boozy cheese selection box with free delivery (Free delivery will also trigger for orders over £50).
For pairing ideas, a West Country cider or fruity pale ale would be ideal. If you wanted the ale used to wash Renegade Monk, look for The Frome Brewing Company's 'Funky Monkey'.
For recipe ideas, Marcus recommends baking Renegade Monk as you would a Camembert or Vacherin Mont d'Or. Try popping some garlic in the top and then scoop it up with your favourite crusty bread for a luxurious treat with a difference.