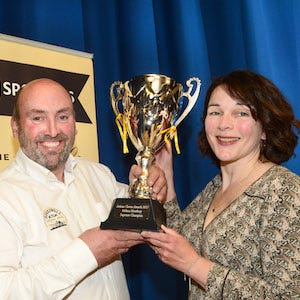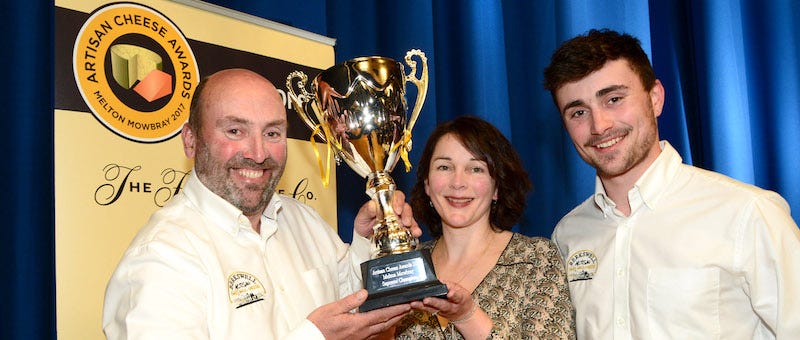 Produced by the Fletcher family at Ram Hall Farm, Berkswell cheese beat more than 500 entries from 115 producers to win the Supreme Champion at this year's Artisan Cheese Awards.
Ewes' milk cheese, Berkswell, not only won the Supreme Champion, sponsored by us, but also the Best Farmhouse Cheese and the Best English Cheese, making it a momentous evening for farm-owner, Stephen Fletcher.
Our Co-Founder, Ann-Marie Dyas couldn't be more pleased for the Fletchers and commented on how incredible it was that, despite making Berkswell for such a long time, they never rest on their laurels and continue honing the recipe.
"We've been selling Berkswell for around 30 years which is almost as long as the Fletchers have been making it. It's a real testament to their continuing commitment to quality and raw milk cheese that they continue to win prestigious awards such as this."
£10,000 of prize money
During the awards, a total of 24 prizes were awarded, recognising the best of artisan cheese-making. Judges paid particular attention to texture, animal origin, raw milk, type and nationality.
More than £10,000 of sponsorship prize money was raised, which went directly to the winning cheese-makers. The Fine Cheese Co. wrote and presented a cheque of £1,000, along with the trophy, to Stephen Fletcher for the Supreme Champion award.
A total of 46 Golds were awarded by the judges with 55 silvers and 52 Bronzes also being handed out. Of the 115 cheesemakers who entered, 16 were from Ireland, nine from Scotland and seven from Wales.
Of the cheeses entered, 62% were made with vegetarian rennet and 40% were created using raw milk. Only 11% were organic. Cows' milk dominated, making up 72% of the entries, while 11% were ewes' milk and 17% used goats' milk.
Winners at the Artisan Cheese Awards
Here's a round-up of the winners that you can buy from us:
Berkswell – Supreme Champion
Golden Cross – Best Soft
Wigmore – Best Semi-soft
Spenwood – Best Sheep
Golden Cross – Best Raw Milk
Hafod Welsh Cheddar – Best Organic
Berkswell – Best Farmhouse
Sinodun Hill – Best New Cheese
Rachel – Best Washed Rind
Berkswell – Best English
Colston Bassett Stilton – Best Stilton
Have you read Cheese making: A different vintage every day, where we talked to Ram Hall Farm's Stephen Fletcher about cheese's evolving flavours?