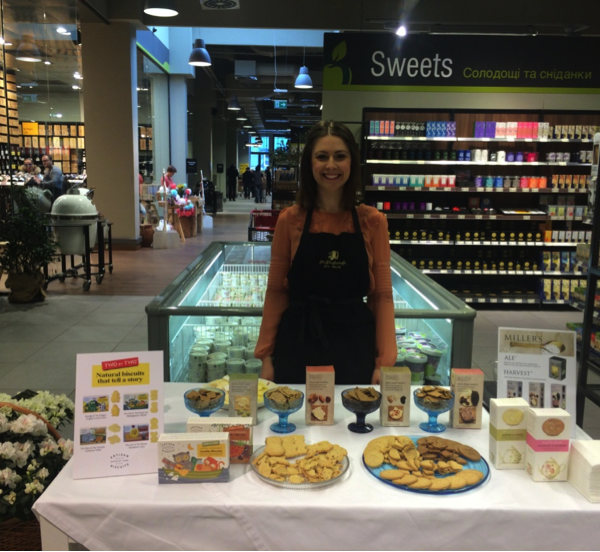 I was recently given the opportunity to visit a customer of The Fine Cheese Co, Good Wine in Kiev; the capital of Ukraine. At the time there was a small part of me that was a little hesitant to go due to the political unrest in the country, but as a natural adventurer with a love for seeing the world, a huge part of me couldn't wait to experience this city and visit my customer.
Originally starting out as a wine importer in 2007, Good Wine has grown over the years resulting in 3 retail stores in Ukraine. They have their own food brand, Good Food and become a wholesaler to over 150 restaurants and food establishments in Kiev. Their largest retail store won European Design Supermarket award in 2013. I had the chance to visit 2 of the 3 Good Wine Stores. Unfortunately the third store in Donetsk, Eastern Ukraine, had temporarily closed over a year ago due to the political crisis.
Good Wine have the same principles to us at The Fine Cheese Co: every product they import has to be the best they can source, they do not compromise on quality and only sell what they would buy and eat themselves.
Spending time in the main store I soon noticed that shopping in Good Wine is an experience rather than an opportunity to grab a pint of milk! On entering the store you automatically feel relaxed and happy to browse at your own leisure. With a restaurant and cafe in store and a laid back atmosphere, customers visit for a morning or afternoon to shop, eat and socialise. The presentation of the shop is beautiful with a huge wine and alcohol department, in house bakery, delicatessen, butchery, fishmongers and florist. If you wish you can even sign up to their in house wine school to learn all about the wines you are purchasing.
Good Wine has been selling our products for a couple of years so during my visit I had the opportunity to hold a sampling day in each of the stores. It was International Women's day that weekend, and a public holiday in Ukraine so the stores were filled with many shoppers, a wonderful atmosphere and people purchasing gifts for their loved ones.
With a prime spot in store and some cheese in hand, I offered customers our Millers Harvest range of Fruity, Nutty and Seedy crackers. Ukrainians are quite health conscious and many check the ingredients of a product before trying it, they were very happy to see our products didn't contain any artificial enhancers. Everyone loved the crackers, the rustic look and the simplicity of the natural flavours.
For the customers with a sweet tooth I had our Elegant & English biscuits on sample, something very different compared to the Ukrainian biscuit offering. People loved them, a very "English" biscuit as they said alongside a few jokes about having a cup of tea!
For the children I sampled the Two by Two character shaped biscuits. An all butter, all natural biscuit which caught both children and adults eyes. The Yorkshire Toffee was a real hit, with many people asking what Yorkshire was!
I am so glad I took this opportunity to visit Good Wine, it was such a great experience and a real insight into the Ukrainian lifestyle and food culture. All the staff at Good Wine and everyone I met along the way could not have been friendlier.
I hope to return one day to show the Ukrainians more of our fine English delights.