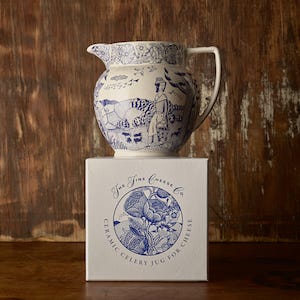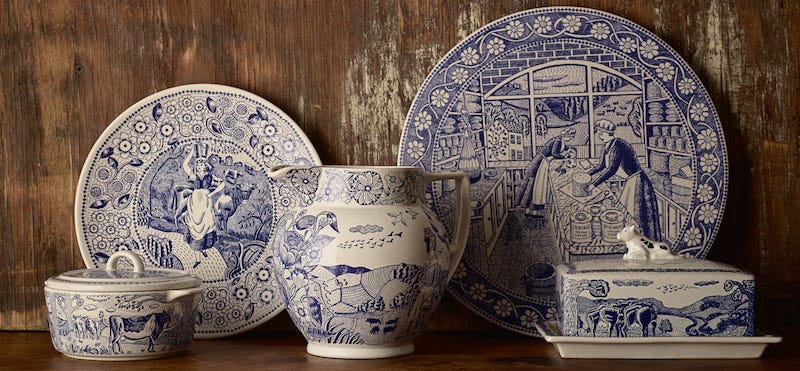 From platters to Stilton pots, our charming ceramic range was developed with the illustrator, John Broadley, because we believe that lovingly crafted cheeses deserve to be honoured with a beautiful presentation.
A new Ceramic Butter Dish was recently added to the blue and white line-up, so we thought it would be a great opportunity to speak with John about how the range started and how it has evolved over the years.
"The original design I made, in collaboration with Julian Roberts' Irving & Co, was the stilton pot," he said. "Ann-Marie had a desire for something which captured the feel of old blue-and-white ceramics and also bucolic English countryside scenes."
"When it came to subsequent designs, it felt right to carry on the same approach; there is almost a sense that the scene on each product could be from the same valley that was first depicted in the original pot."
A design challenge
The range also comprises a Ceramic Baker for Cheese, a Platter for Cheese and Set of Six Ceramic Plates for Cheese. Each has a different pastoral scene – a contemporary take on 18th-century blue and white china.
John tells us the set of six plates were difficult in that they each had to have the same drawing, but with something distinctive. While the cheese platter was perhaps the most satisfying one to design.
"I found the cheese platter very satisfying in the end because it was such a struggle to get the design right," he said. "Ann-Marie was always very good at relaying to me what she wanted and the platter differs to all the other ones because it is the only interior scene."
"It went through many changes, through what all the objects would be in the workshop to what the scene out the window was; I think the final design works well thanks to the input I received."
Well, it was certainly worth the effort. We absolutely love John's designs because they are fresh, quirky and deliberately 'wonky' and can't wait to see what additions there may be in the future.