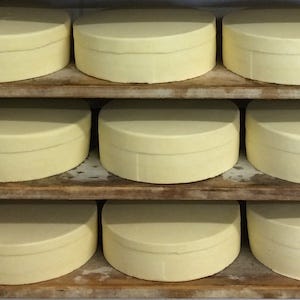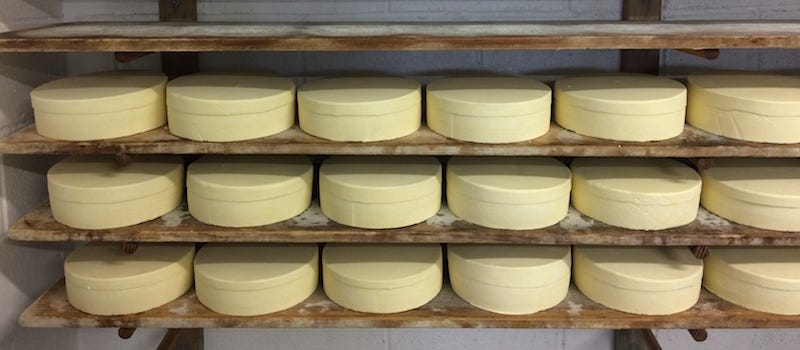 A group of us from different departments in The Fine Cheese Co ventured into the heart of Somerset for a trip, which for most of us was our first visit to see one of our cheesemakers in their element.
We started our day by meeting cheesemaker, Tom Calver, in his dairy that's nestled in the beautiful village of Westcombe. There have been records of cheesemaking here since 1879, with the first cheeses being made with Edith Cannon.
Since then, the Calver family took over and there have been some sizable developments. One of these big projects was knocking down the old dairy and rebuilding the new one, which is still in use today.
Westcombe Dairy's long history
Tom met us on this crisp, wintery morning in their quaint little onsite shop, where we all huddled around the wood burner trying to keep warm. He talked us through the history of the Westcombe Dairy, detailing all the changes it has been through over the years that have helped make it the great success it is today.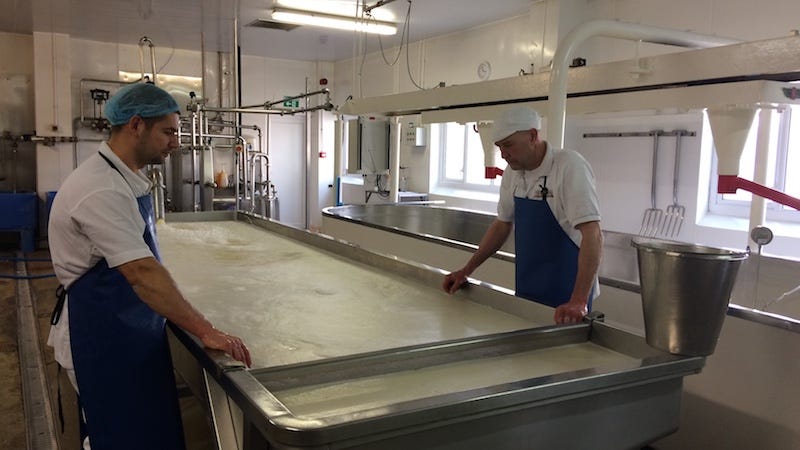 We then quickly hurried into the warm for a tour of the dairy, geared up in white coats and very fetching hair nets to go and see the cheesemaking process in all its glory. They were making Westcombe Cheddar and Ricotta during our visit.
Tom talked us through the fascinating process of the Cheddar making, his love for the traditional methods and an incredible amount of detail on the importance of the starter cultures that they use. We definitely all came away knowing a lot more about bacteria than when we arrived!
The Cheddar cellar
We were all very keen to see the cheddar stores, a cave dug out into a clay hillside and lined with concrete. The store houses around 5000 Cheddars at any one time. As the door slid open, we were faced with rows and rows of Cheddars towering over us. Tom recently implemented a new batching system, so rather than labels, a simple scan with a handheld device tells the team at Westcombe everything they need to know about the cheese.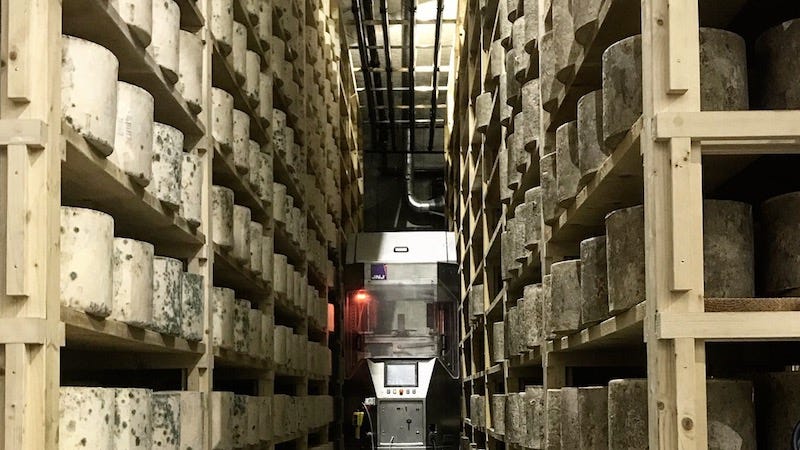 Of course, seeing the famed Westcombe robot in action was something we were also looking forward to as well. The world's first Cheddar-turning robot, dubbed 'Tina the Turner', was busy stacking cheeses on the highest shelves. This piece of technology has totally revolutionised the way the store is looked after, increasing productivity and allowing much better quality control. Robots are the future, after all.
There are many new and exciting projects happening at Westcombe Dairy, including a converted phone box that's being used to smoke their cheddars! We were all in agreement that the resulting cheese was absolutely delicious!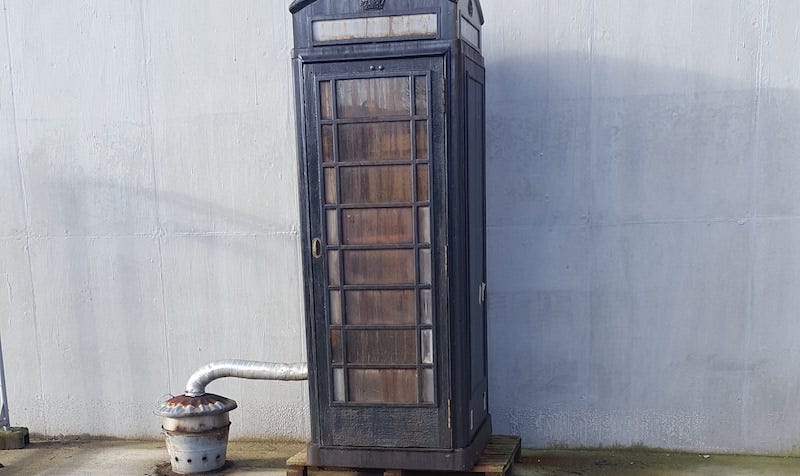 No visit to a cheesemaker would be complete without a cheese tasting and it was wonderful to try a little bit of everything, including some of Westcombe's charcuterie, another new project on the horizon.
Tom's parents kindly put on a lovely spread for lunch and then it was a short drive down the road to White Lake Cheeses where we were going to learn about lactic cheeses and meet some goats.
White Lake Cheese's winning cheesemaking
Pete Humphries, White Lake's cheesemaker, greeted us. He was wearing a t-shirt that proudly displayed the White Lake logo across the front. Rightfully proud too as they recently scooped a handful of trophies at the British Cheese Awards and Super Gold at the World Cheese Awards, which was on show in the office as we walked in.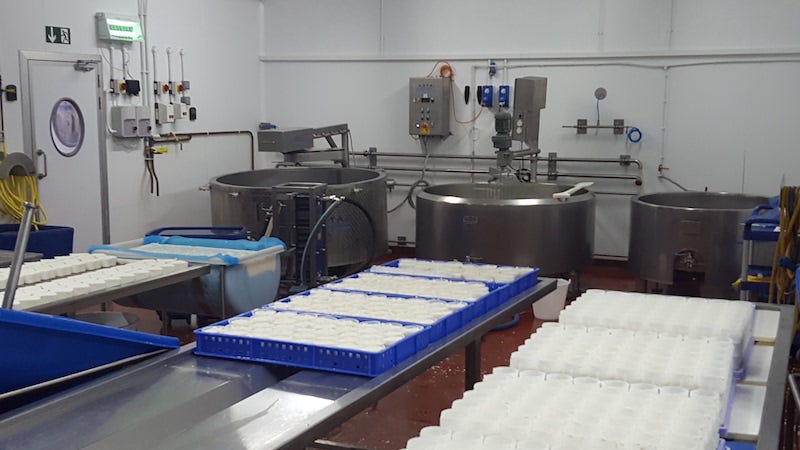 It was time to suit up again in the familiar white coats and hair nets for a tour around the dairy. Established in 2004 by Pete Humphries and Roger Longman, White Lake Cheeses make a range of ewes', goats' and cows' milk cheeses, but it is the goats' milk cheese that they are best known for.
The dairy is somewhat of a rabbit warren. Starting out as a much smaller operation, they've been expanding further and further, building more and more rooms to cater for the rapid growth the business has experienced. We caught a sneaky glimpse of the heart-shaped cheeses in preparation for Valentine's Day, which will soon be making their way to The Fine Cheese Co.
It was certainly fascinating to see all the cheeses being made, especially when you consider that the 30-plus cheeses that they make generally all come from the same three base recipes.
Rachel's signature yellow
Their signature Rachel cheese is one of my absolute favourites, so walking into the maturation room stacked head to toe with Rachel's of varying sizes was complete heaven! Although they never intended for the yellow spots of mould to grow, they have become such a familiar feature of the cheese and it looks like they're here to stay.
The day ended with a trip up to the farm to see the goats, which were very happy to see us and demanded our complete attention as well as trying to eat a few jumpers and scarves!
All in all, we had a great day learning more about cheese. It was really lovely to see it all in action and as someone who grew up in rural Somerset, I never knew such great things were happening all this time, right on my doorstep.
By Aimee Curran, Account Manager.