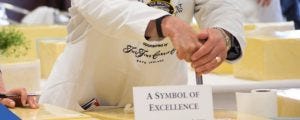 Sponsors of the 2018 British Cheese Awards: The Fine Cheese Co.
The 25th annual event was a special night for all concerned, and, as sponsors of the awards, it was all the more poignant for us, for a number of reasons.
The awards night, which was held at The Royal Bath and West Showground, brought together the best of the best in British cheese.
Close to 1000 cheeses were entered and then whittled down to a select few which were lauded and applauded for their merit, after a vigorous (and none-too arduous) judging process.
Amongst the expert panel of judges were our very own Ruth Raskin and Luke Maslen, but also Michel Roux OBE, who has long been an ardent supporter of British Cheese, and Juliet Harbutt, the founder of the British Cheese Awards all those years ago. Juliet is a woman who has done much to bring about such a robust state of affairs in our industry. But for us, and many others, when it comes to celebrating the role of influential and inspirational women in artisan cheese, none can be said to have done more than our founder, Ann-Marie Dyas.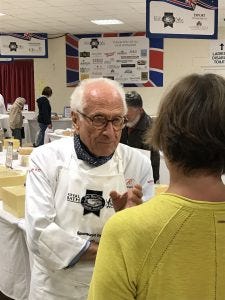 Michel Roux OBE
Ann-Marie was a force to be reckoned with for 30 years in the artisan cheese business, defending, celebrating and showcasing the best of traditional British cheese, and allowing it to flourish like never before. Ann-Marie left a sizeable legacy, and sheep's milk cheeses were always a particular favourite of hers.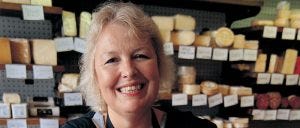 Ann-Marie Dyas - Founder of The Fine Cheese Co.
So it was with great pride and pleasure, that John Siddall presented the inaugural Ann-Marie Dyas Memorial Award for Best Sheep's Milk Cheese.
The award went to worthy winners, Kevin and Alison Blunt of the Golden Cross Cheese Company, for their excellent Flower Marie. In a serendipitous twist of fate, Flower Marie was a cheese that was actually named after Ann-Marie many years ago, by Kevin Blunt and the late, great James Aldridge.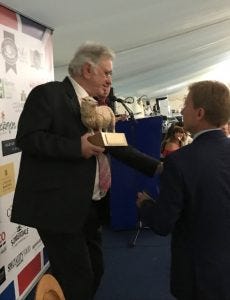 John Siddall with the Ann-Marie Dyas Award Memorial Award for Best Sheep's Milk Cheese.
The rest of the evening was equally as engrossing. Many of our cheesemakers made their way home with trophy bags considerably heavier than they were before. Jamie Montgomery claimed the prize for Reserve Champion for his exceptional Cheddar, while Killeen, Whitelake and Colston Bassett also took home prizes.
The Bath Soft Cheese Co. did particularly well, taking home the prize for best packaging (Bath Soft) and best organic cheese (The Merry Wyfe). But undoubtedly the runaway successes of the evening had to be Tom and Richard Calver of Westcombe Dairy, winning, as they did, an incredible three prizes.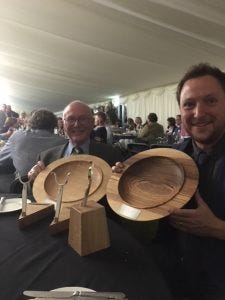 Richard and Tom Calver of Westcombe Dairy
Westcombe Cheddar won the award for best Cheddar, while the incomparable Duckett's Caerphilly scooped the other two prizes, which were for the best territorial, and best English cheese.
It was a momentous evening for all concerned, and not one we're likely to forget any time soon. Huge congratulations to all concerned – it is an exciting time to do what we do.
A few favourite of The Fine Cheese Co. who took home prizes
Category Winners:
Reserve Champion
Montgomery's Mature Cheddar - JA & E Montgomery
Best English Cheese
Duckett's Caerphilly - Westcombe Dairy
Best Cheddar
Westcombe Cheddar - Westcombe Dairy
Best Cheese from a member of the Specialist Cheesemaker's Association
Killeen Goat Gouda - Killeen Farmhouse Cheese
Best Organic Cheese
The Merry Wyfe - Bath Soft Cheese Co.
Best PDO/PGI Cheese
Colston Bassett Stilton - Colston Bassett
Best Sheep's Cheese and Ann-Marie Dyas Memorial Award
Flower Marie - Golden Cross Cheese Co.
Best Territorial
Duckett's Caerphilly - Westcombe Dairy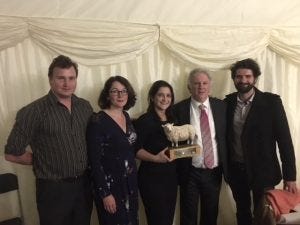 Martin Knapp, Ruth Raskin, Gabriella McKeague, John Siddall and Luke Maslen of The Fine Cheese Co.
Gold Medals:
Bath Soft - Bath Soft Cheese Co.
Winslade - Hampshire Cheeses
Ogleshield - JA & E Montgomery
Wigmore - Village Maid Cheese
Keen's Extra Mature Cheddar - Keen's Cheddar
Appleby's Cheshire - Appleby's of Hawkstone
Sparkenhoe Red Leicester - Leicestershire Handmade Cheese
Bath Blue - Bath Soft Cheese Co.
Burt's Blue - Burt's Cheese
Cornish Yarg - Lynher Dairies
Lincolnshire Poacher - F.W. Reed & Sons