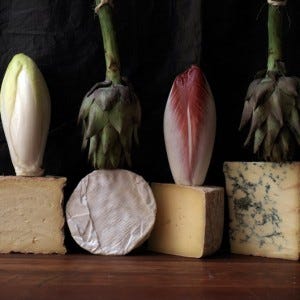 To mark 400 years since the birth of the humble Devon Oke cheese, we have curated a selection box featuring a cheese for every century after the Oke's inception.
Headlining the 400 Years of British Cheese box, which was featured in the June 2016 issue of Food and Travel Magazine, is the Devon Oke itself, a cheese that some believe is older than Cheddar. Cheese-maker Rachel Stevens discovered the Devon Oke recipe only 20 years' ago and was delighted to re-create a lost tradition. Her cows' milk cheese has a smooth, firm texture and a mellow, creamy flavour.
Accompanying the Devon Oke is the 18th-century Colston Basset Stilton, a pasteurised vegetarian cheese. Made by Billy Kevan and his team in Nottinghamshire, Colston Bassett is one of the only hand-ladled Stiltons still in existence. Hand-ladling produces an intensely rich and creamy cheese; and the Colston Bassett flavour is deep, lingering and complex.
Duckett's Caerphilly, made by Tom Calver at Westcombe Dairy, is representing the 19th century in our 400 Years of British Cheese box. This is one of the last standing traditional Caerphilly's. It's lactic, crumbly and fresh.
A pasteurised English brie-style cheese, with the thinnest rind and a fruity tang brings us into the 20th century. The Tunworth is the closest cheese this country has produced to a camembert.
Developed by Stacey Hedges, who only started making cheese in 2004, Tunworth has the thinnest possible rind, an undulating surface, and a profoundly fruity tang - enough to convince a Frenchman that this was made on his terroir.
Would you like to eat cheese history with this collection of four cheeses? The 400 Years of British Cheese box is available to purchase from The Fine Cheese Co. now.