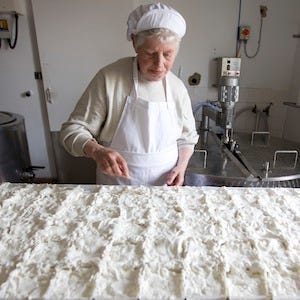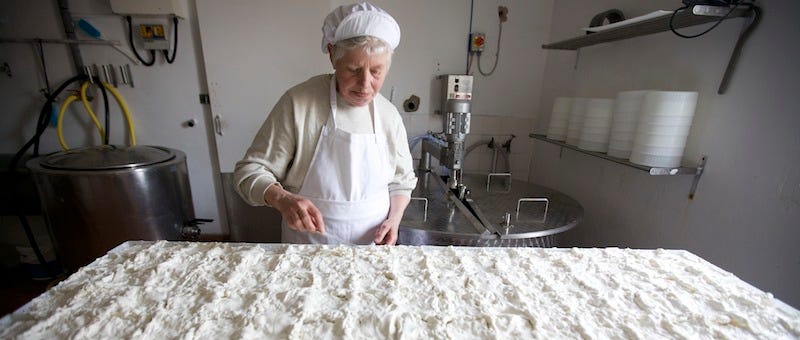 Women have long held a place at the heart of traditional cheesemaking. In the very early days of British cheese, monasteries were important centres of production. With their dissolution by Henry VIII in 1560, recipes often passed to the local farmers' wives, broadening the styles of cheese to be found on British farms.
There is a long tradition of the women of the family taking control of the dairy, and making butter and cheese both to feed their family and to take to market. Women cheesemakers have played a key role in the resurgence of artisan British cheese and have inspired a new generation of women to take up this noble profession.
In homage to these wonderful women, we have created a selection called Sisters in Cheese, which celebrates the accomplishments of four great women cheesemakers who have revived lost cheeses or created new classics.
Do cheeses have a gender?
It wasn't easy to choose just four, in fact, so great is the choice of cheeses made by women that, when talking to us recently, Mary Holbrook of Sleight Farm, and maker of Tymsboro', observed, with a tongue in cheek, that each gender is often attracted to certain styles of cheese.
"In Portugal, for example, lots of women make soft cheese up to a kilo, whereas men tend make more hardy cheeses," she said. "You definitely see women making more sensible cheeses and then men more macho ones like Gruyere."
Mary has a wealth of experience, having started in the mid-70s. Back then, there wasn't a lot of people making cheese in the UK and to educate herself, she had to venture around Europe to see how others were doing it.
A few years' later, Anne Wigmore, who works with husband Andy at Village Maid, was just starting out. Rather than looking to the continent, she spoke to us about learning from one of Gloucestershire's most famous cheesemakers.
"Over 30 years ago I visited Charles Martell, who now makes the famous Stinking Bishop, but then made Single and Double Gloucester cheese. I was working at a Dairy Research Institute at the time and Charles was the first artisan cheese maker I had visited."
Anne described how, when she met Charles, making such good cheeses on a small scale was new to her. However, he offered her encouragement to make her own and we're so happy she did!
Aussie inspired cheesemaking
Things were a little different for Hampshire Cheese's, Stacey Hedges, who told us how she travelled a lot when she was younger and was then encouraged to try lots of different foods. During this time, she drew inspiration from one Australian cheesemaker in particular.
"I didn't have a role model as such but a long time before I started my career in cheese I used to avidly follow an Australian cheesemaker called Gay Kervella. She was making incredible goats' milk cheese in Western Australia in the 80's and 90's and I often thought it was something I would like to do," she said.
Since then, Stacey has learned a lot about cheesemaking and her cheeses are easily some of our favourites. However, she does wonder if starting a little younger may have been better, due to it being a physically demanding job.
"Sometimes I wish I had started it when I was younger and had more energy but age has also given me the confidence to 1. Follow my gut instinct 2. Ask questions 3. Accept that you will make mistakes along the way, but you will learn from them," she said.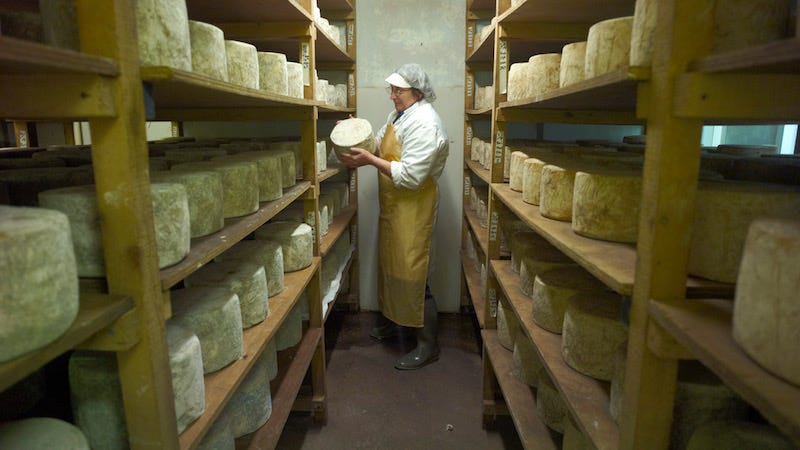 Making cheese isn't for the faint-hearted
Curworthy Cheese's Rachel Stephens, who produces the fabulous Devon Oke, echoed what Stacey had to say on how tough cheesemaking can be physically, but tempered that by saying that overall it's a fun job to be in.
"With any new potential employee, I would say they need a sense of humour and muscles!  It's a very rewarding career which keeps you physically fit and allows you to meet many interesting people," she said.  "
"I enjoy doing markets and meeting the public to get feedback on the cheese that I make. To make something and then go and sell it direct, I find this very rewarding."
It's not just the markets that Rachel finds enjoyable. She's had some incredible career highs over the years, from surviving the foot and mouth crisis to meeting various members of the royal family over the years, including the Queen, Princess Anne and Camilla, The Duchess of Cornwall.
Rachel wasn't the only one to have such highlights. Mary was given a Slow Food Italia Slow Cheese Award at Bra in 2013, while Stacey won Supreme Champion at the British Cheese Awards twice, in 2006 and 2013, plus a top-50 place at at the World Cheese Awards.
In fact, all of the cheesemakers in our Sisters in Cheese box have so many proud achievements. They are an inspiration to not only female cheesemakers, but the entire cheesemaking industry.