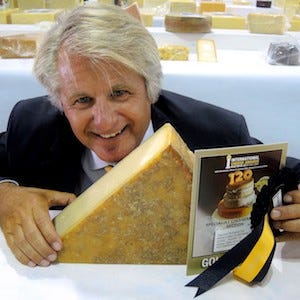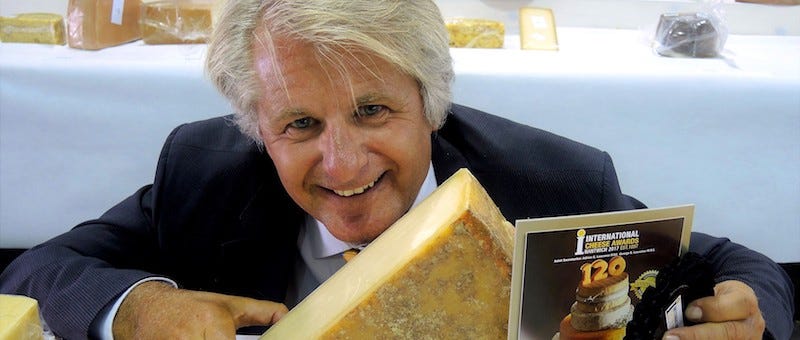 Swiss affineur, Walo von Mühlenen, has been the talk of The Fine Cheese Co. offices after his impressive haul of medals at the recent International Cheese Awards 2017 in Nantwich.
We are all so excited for Walo and all of the cheeses that picked up rosettes. In total, there were 12 awards for his tasty alpine cheeses, including two gold, five silver, two bronze and three very highly commended.
Of course, we are delighted that the Affineur Walo Le Gruyère AOC Extra Mature won a gold. However, it's not a huge surprise to us because this cheese has been wowing us since the moment we started stocking it.
Everything about it has us grasping for another slice. From the unbelievable flavour delivered by the crunchy crystals in the cheese to the floral, fruity notes and silky texture, it was love at first taste for us.
Walo's award for his Gruyère builds on last year's sensational win, where he collected the prestigious Bradbury's Trophy, also known as Supreme Champion Continental International Cheese for Starnachas.
The International Cheese Awards is held each year in Nantwich. It is the traditional summer event of the British cheese industry. With over 5000 entries from all over the world, it is one of the largest cheese competitions in the world.
Cheese has been a big part of the von Mühlenen family for almost 200 years and more than five generations. It began in Bern when Andreas von Mühlenen established the business in 1867 before it moved to Fribourg.
It is our hope that we get to taste these Swiss alpine cheeses for many more years to come too.
Here are all of affineur Walo's awards from Nantwich:
Gold
Affineur Walo Le Gruyere Switzerland AOP, extra, a hard cheese matured for 14 month in special caves
Silver
Affineur Walo Le Gruyere Switzerland AOP, extra, a hard cheese matured for 14 month in special caves
Stärnächäs produced by Marcel Gabriel a hard cheese matured for 10 month
Affineur Walo Redwine Farmer Cheeese, a semi hard cheese matured 8 month with red wine
Bronze
Affineur Walo Red Nose, Gold Label a hard cheese matured 12 month with red wine.
Stärnächäs a semi hard cheese produced in St. Gallen and matured for 8 month