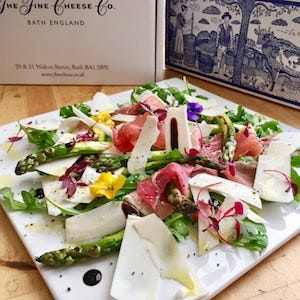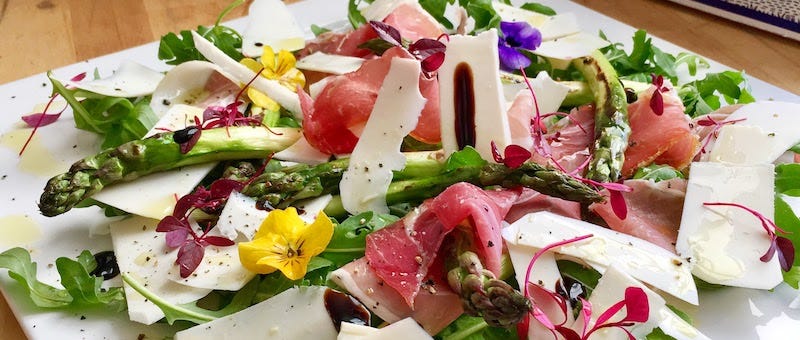 Ricotta stagionata is quickly becoming our go-to cheese for Italian dishes. It can be grated over pasta or used to finish a risotto, however we think it has so much more to offer.
We asked our Bath café's Head Chef, Laurent, to create something a little different and this is the delicious dish he came up with. His grilled asparagus salad with prosciutto ham and ricotta stagionata is a real summer sensation.
Ingredients
400g Green asparagus
6 Slices of Prosciutto ham
1 Lemon
150g Ricotta Stagionata
1 Handful of rocket leaves
Extra Virgin Olive Oil
Sea salt
Method
1. Peel the asparagus and cut the woody ends if needed.
2. Place them in a hot griddle pan, cooking for two minutes on each side with a drizzle of the oil.
3. Season with sea salt and squeeze a little lemon juice over them.
4. Lay the asparagus in a flat dish on a bed of rocket leaves and tear the slices of Prosciutto ham into strips, so they rest on the salad.
5. Finish the dish by grating the Ricotta Stagionata over the top, then sprinkle with some black, cracked pepper and a dash of balsamic vinegar.
Serves four people.