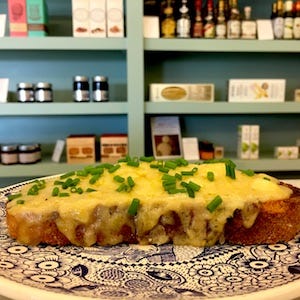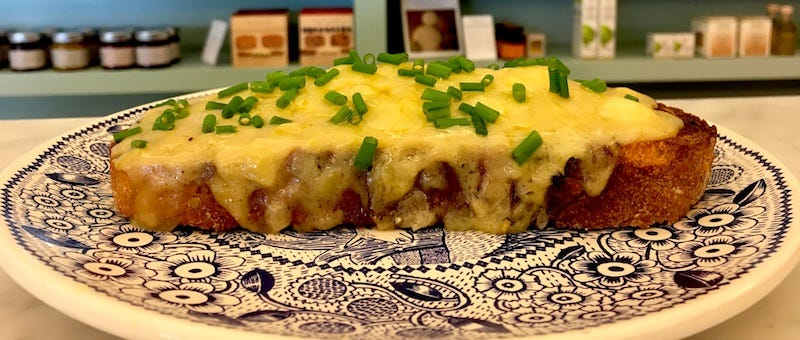 Our Cheese Care Manager, Luke Maslen, has shared his Ultimate Welsh Rarebit. It's the perfect comfort food for a rainy day.
Traditionally, Caerphilly would have been used, however Mrs Kirkham's Lancashire or other territorial cheeses are great too. Many different cheeses can be substituted, according to your mood.
Luke, prefers a hearty, west-country cheddar for that earthy hit, so we've used our Westcombe Hand-Select Cheddar in this recipe. We also use La Tourangelle Garlic Infused Oil in the mix, but you can also use a crushed garlic clove.
Welsh Rarebit gets its name from the days when Welsh hunters returned to their homes empty handed. They'd turn to Welsh Rarebit as substitute, due to it being a filling and substantial meal that's made meat-free (rabbit-free) from staples found in the larder.
Welsh Rarebit is a great go-to dish if you have any leftovers from the weekend cheeseboard. It's also fitting dish for St. David's Day on 1st March.
Ingredients
Bread of your choice, toasted
¼ medium leek, finely chopped
1 teaspoon La Tourangelle Garlic Oil
200ml ale, Bath Ales Wild Hare
250g Westcombe Hand-Select Cheddar, or other hard pressed British cheese. (or mixture of)
50g The Fine Cheese Co. Salted Butter
30g flour
1 teaspoon Moutarde de Bourgogne, or wholegrain mustard
1 teaspoon paprika, optional
Chopped chives to garnish, optional
Method
1. Sauté leeks and garlic in 20g butter on low heat until soft.
2. In another pan, make a roux with 30g butter/flour.
3. Add 50ml of ale to the roux. Continuously stir to avoid lumps. When smooth, add another 50ml ale. Repeat this process until all of the ale finished.
4. Add the mustard, paprika and stir.
5. Remove the roux from the heat and allow it to cool slightly. Incorporate cooked leeks and grated cheese. Mix until melted. Do not cook or the cheese may separate.
6. Taste and season. The mixture can take a lot of black pepper, but not too much salt as you will have already added cheese and butter.
7. Allow it to cool and then spread the paste onto your toasted bread. Push it right to the edges to stop the bread from burning.
8. Grill on a high heat until the cheese is browning and blistering.
9. Garnish with chopped chives.
Serves four people.