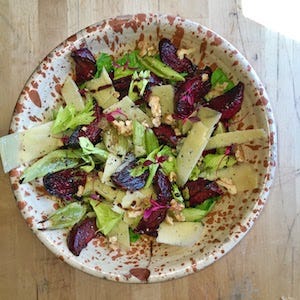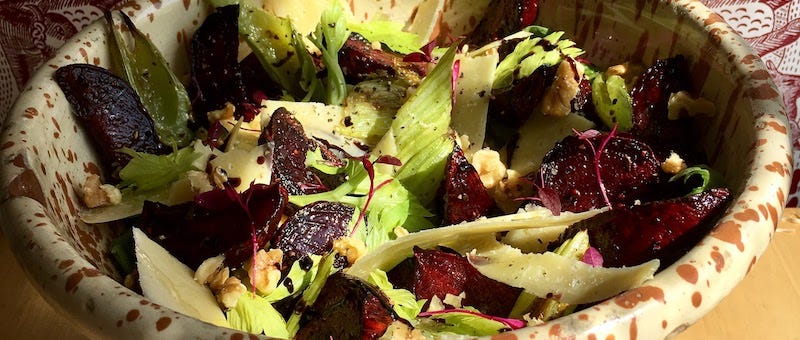 With a hint of Parmesan, Old Winchester cheese, also known as Old Smales, is incredibly versatile when used in cooking. It adds the perfect finish to all manner of dishes. Here's one such example created by The Fine Cheese Co. Bath's Head Chef, Laurent.
So, dust off your vegetable peeler because you'll need it for this great-tasting roasted beetroot and celery, with Old Winchester cheese and walnut recipe.
Ingredients
400g Mixed-colour beetroot
1 Bunch of celery
50g Walnut
60g Old Winchester cheese
Balsamic vinegar
Extra virgin olive oil
Sea salt
Black pepper
Method
1. Peel the beetroot and cut it into quarters, like you would do with an apple.
2. Peel the celery to remove the stringy parts and then cut it into chunks.
3. Roast the vegetables in two separate trays at 190°C, with a tablespoon of olive oil, sea salt and black pepper until they become soft to the centre.
4. Make a dressing with one tablespoon of balsamic vinegar and three tablespoons of extra virgin olive oil.
5. Mix the warm, roasted vegetables with the dressing in a deep bowl and then top with the crushed walnuts. Use a peeler to shave pieces of Old Winchester cheese over the top.
Serves four people.